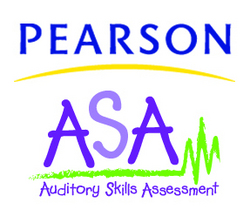 Bloomington, MN (PRWEB) July 27, 2009
Meeting the call for enhanced assessments that detect at-risk children as early as possible, Pearson today announced the launch of the Auditory Skills Assessment (ASA), an evaluation designed to screen preschoolers' auditory skills.
Unveiled at the 2009 American Speech-Language-Hearing Association(ASHA) Schools conference, the Auditory Skills Assessment screens for sound meaning and interpretation in children aged three years, six months to six years, 11 months -- the youngest age range for a published auditory processing assessment. Available January 2010, the Auditory Skills Assessment consists of six, brief tasks covering three major linguistic and non-linguistic areas that screen for the foundational skills necessary for academic success.
"Early childhood assessments and interventions have received much attention of late because we know that the sooner we catch kids who are at risk, the better chance we have of providing the right instructions and intervention. The Auditory Skills Assessment answers that challenge by offering the first-of-its-kind evaluation to effectively assess our youngest citizens and set them on a path to success," said Carol Watson, president of the North American Clinical Assessment group of Pearson.
School speech-language pathology professionals will be able to use ASA in a universal screening program or as an individualized assessment to effectively screen language-based and nonlinguistic tasks. Administration time for the screening is approximately 5 minutes for children under five years old and about 15 minutes for children age five years to six years, 11 months. ASA results point speech-language pathologists to the next step in a child's auditory development by indicating a need for further evaluation, immediate intervention in auditory skills or a rescreening.
For more information about ASA, visit http://www.pearsonassess.com or http://www.pearsonassessments.com.
About Pearson:
Pearson (NYSE:PSO), the global leader in education and education technology, provides innovative print and digital education materials for preK through college, student information systems and learning management systems, teacher professional development, career certification programs, and testing and assessment products that set the standard for the industry. Pearson's other primary businesses include the Financial Times Group and the Penguin Group. For more information about the assessment group of Pearson, visit http://www.pearsonassess.com or http://www.pearsonassessments.com.
###