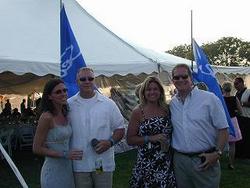 Springfield, MA (PRWEB) July 24, 2009
Bassett Boat Company, a leading boat dealership specializing in Sea Ray and luxury Viking Sport Cruisers, is hosting its annual Aquapalooza event with Sea Ray boats, this Saturday, July 25th, for Sea Ray customers of New England.
The raft-up party will take place at Potter's Cove, RI in Narragansett Bay on the East side of Prudence Island. Live music from Rhode Island's hottest party band, Willy Wayz & Friends (of the band Wayz and Means), water fun, giveaways and more will take place between 1 and 5 pm.
Any guests wishing to turn the party into an overnight may purchase slips from Brewer's Greenwich Bay Marina at the discounted rate of $1.50/ft. Guests are also welcome to join the Bassett Boat team at Chelo's Waterfront Grille and Bar. Chelo's is offering a 10% food and beverage discount to all the event's guests for the evening.
To learn more about the Bassett Boat Company, visit Bassett Boat website.
###