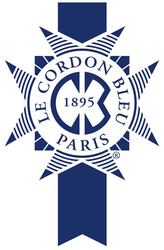 Secaucus, NJ (PRWEB) July 27, 2009
Le Cordon Bleu Ottawa has partnered with Sony Pictures in celebration of the Julie & Julia movie which will be released in theaters across Canada on Friday, August 7, 2009.
On Monday, July 27, 2009, Le Cordon Bleu Ottawa will host an activity filled day for media, renowned chefs, Le Cordon Bleu Alumni and VIPs. The day will culminate with a preview of Director Nora Ephron's screenplay, based on two true stories, Julie and Julia.
Le Cordon Bleu International has partnered with Sony Pictures in this extraordinary global celebration of a talented and energetic American woman to whom Madame Brassart awarded the coveted parchment of Le Cordon Bleu recognizing her studies at the school. In fact Julia Child introduced French cooking to millions of homes across the United States and has inspired many of today's great chefs and Julie Powell herself.
Julia Child used to explore the markets in Paris with her Le Cordon Bleu instructor and 'Maître Chef' Max Bugnard, who was trained by world famous chef, Auguste Escoffier. A guided tour of the Byward Market, in cooperation with Ottawa Tourism and Savor Ottawa, will commence at 10:00 a.m.
Following the market tour, guests will proceed to Le Cordon Bleu Ottawa Culinary Arts Institute at 453 Laurier Ave East. Upon arrival, a gourmet breakfast will be served as guests are greeted in Salle Cointreau; named after the President and CEO of Le Cordon Bleu, Mr. André Cointreau. A culinary demonstration of Julia Child's final exam dishes will take place at 11:00 a.m.
From 5:00 p.m. to 6:30 p.m. a Red Carpet reception will be held at The World Exchange Plaza at 111 Albert Street. To whet appetites for the movie, 'amuses gueules', prepared by Le Cordon Bleu Chefs will be served. The selection of these bite-size hors d'oeuvres are inspired by Julia Child's English adaptation of the classical repertoire of French recipes in Mastering the Art of French Cooking and recipes that Julie Powell attempts to master in her own book.
In addition, guests will learn how to flip and flambé crepes and witness a sugar demonstration. This will be followed by a special advance screening of Julie and Julia which will begin at 7:00 p.m. sharp at the Empire World Exchange Centre 7.
Le Cordon Bleu Background Information:
In the 1950's, around the same time when Julia Child graduated, Le Cordon Bleu represented not only the highest level of culinary training but was a symbol of Paris itself.
For almost a century,Le Cordon Bleu has set the standard for cooking schools around the world and its innovative ways have changed the way students are trained and classes are conducted. It is the first school to have organized demonstrations where a chef cooked and participants were allowed to sample each dish prepared. Through a judicious mixture of practical classes and demonstrations, students learn French cuisine from French/professional chefs directly.
Today, Le Cordon Bleu proudly offers more than 29 schools across 5 continents which are attended by more than 20,000 students every year. Students are taught by our master chefs, of which the majority come from Michelin-starred restaurants or are winners of prestigious competitions and titles such as Meilleur Ouvrier de France.
Le Cordon Bleu Ottawa Culinary Arts Institute is part of this international network of culinary schools. Truly the North American hub, it offers state-of-the-art facilities and is located in the heart of Ottawa - Canada's impressive yet intimate capital city.
The curriculum taught is constantly evolving in step with modern tastes and an ever changing industry.
Le Cordon Bleu Ottawa is proud of its students who are continually raising the bar and succeeding in all areas. This year, at the National Skills Canada competition, a pastry student was awarded Post Secondary Baking Champion. On Parliament Hill, a graduate assisted in preparing a flavor-filled Canadian lunch for President Obama and Prime Minister Stephen Harper!
Visit our Julie & Julia micro site: http://www.cordonbleu.edu/julieandjulia
JULIE & JULIA Synopsis; Comedy- August 7, 2009
Meryl Streep is Julia Child and Amy Adams is Julie Powell in writer-director Nora Ephron's adaptation of two bestselling memoirs: Julie Powell's Julie & Julia and My Life in France, by Julia Child with Alex Prud'homme.
Based on two true stories, Julie & Julia intertwines the lives of two women who, though separated by time and space, are both at loose ends...until they discover that with the right combination of passion, fearlessness and butter, anything is possible.
Directed by: Nora Ephron
Screenplay by: Nora Ephron
Based on the Books: Julie & Julia by Julie Powell and
My Life in France by Julia Child with Alex Prud'homme
Produced by: Nora Ephron
Laurence Mark
Amy Robinson
Eric Steel
Executive Producers: Scott Rudin
Donald J. Lee, Jr.
Dana Stevens
Cast: Meryl Streep
Amy Adams
Stanley Tucci
Chris Messina
Linda Emond
For Sony Pictures Media Inquiries, please contact Natalie Amaral
###