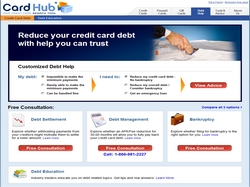 CardHub.com is now a one-stop solution that holistically addresses the credit card needs of all consumers, regardless of their financial circumstances
Arlington, VA (PRWEB) July 27, 2009
According to the Federal Reserve, the credit card charge-off rate for the first quarter of 2009 jumped over 80% to a record 7.51% - meaning that the balance on roughly 1 out of every 13 credit cards is in default. Additionally, in May, the number of bankruptcy filings reached 6,020 a day, which represents a 33% increase from a year earlier. To address the concerns of the multitude of consumers facing these challenges, CardHub.com, the leading and most robust online credit card marketplace, today announced the addition of a Credit Card Debt Center to its site. Launched in July 2008, Card Hub continues to revolutionize the consumer selection process for products and services in the personal finance space.
The Credit Card Debt Center includes two key features: Debt Help that provides consumers with customized debt management advice and Debt Education that offers an in depth understanding of the pros and cons of various debt solution options. Highlights of these features include:
Debt Help:

Custom Recommendations - Based on anonymous information, consumers are given personalized debt advice that is backed by sound and detailed rationale.
Transparency - Recommendations are based on the information consumers provide and are free of any marketing spin.
Interactivity - Consumers can easily change the information they input, giving them the ability to understand the recommended solutions for different types of debt situations.
Debt Education:

Comprehensive Resource - A complete catalogue of debt solutions inclusive of the ins and outs that accompany each option.
Debt Solution Comparison - In depth analysis of the four major avenues that lead to debt relief including: Debt Consolidation; Debt Settlement; Bankruptcy and Debt Management.
Reliable Guidance - CardHub.com's debt education portal is populated by industry experts and insiders, giving consumers advice they can trust.
"Rising levels of credit card debt can be stressful and difficult to manage and understand. Getting out of debt is never painless or easy, but understanding what options are available can be the first step towards a fresh start," said CardHub.com CEO & Founder Odysseas Papadimitriou. "With the launch of Card Hub's Credit Card Debt Center, we hope to assuage the concerns and lack of understanding that consumers have about credit card debt, and to direct them towards the debt help solutions that are suitable to their individual needs."
Its unique tools and content make Card Hub the leading destination for consumers searching for better credit cards. The addition of the Credit Card Debt Center allows Card Hub to also address the concerns of consumers who are looking for solutions as how to best manage their existing credit card debt. As a result, "CardHub.com is now a one-stop solution that holistically addresses the credit card needs of all consumers, regardless of their financial circumstances," Papadimitriou added.
For more information on CardHub.com's Credit Card Debt Center please visit, http://www.cardhub.com/credit-card-debt/.
About Evolution Finance, Inc. and CardHub.com:
Named one of the five hottest start-up companies in the mid-Atlantic region, Evolution Finance was created out of a passion to give more financial control to everyday people. Card Hub, its first service, is a credit-card search tool that puts credit card reform into the hands of consumers. Its one-of-a-kind dynamic search engine allows consumers to find the best credit cards, charge cards, prepaid credit cards, and gift cards for their needs, and provides consumer advocacy through credit card education.
###