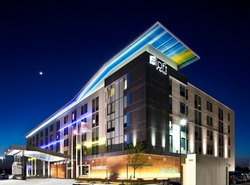 Linthicum Heights, MD (Vocus) July 27, 2009
Say "aloha" to the newest hotel in Baltimore – Aloft Baltimore-Washington International Airport. Come out and see the arrival of W Hotels into the Baltimore lodging market. The Dedication will take place on Thursday, July 30th at 12pm.
From the creators of the innovative luxury hotel brand, W Hotels presents a new concept in affordable, style-driven lodging for business and leisure travelers. The Aloft BWI is 155 rooms of enhanced technology, urban-influenced design, and a social atmosphere geared toward the growing Generation X/Y travel segment.
Dedication festivities will include the burying of a time capsule filled with today's memorabilia such as iPhone 3G S, Michael Jackson MP3 files, and articles on significant current events. The time capsule will be re-opened on the tenth anniversary of the hotel. The event will also consist of property tours of the hotel's public areas and guestrooms, and the area's most popular DJ Gemma stirring enthusiasm over the newest hotspot in Linthicum, the W xyz bar. City officials, developers, clients, media and friends are invited to mix and mingle over complimentary tasty bites and beverages.
The Aloft BWI Airport marks the sixth hotel developed by The Buccini/Pollin Group and operated by PM Hospitality Strategies, Inc., in the BWI and Anne Arundel, Maryland area. Less than a mile from the Baltimore-Washington International Thurgood Marshall Airport, the Aloft BWI Airport is located at 1741 West Nursery Road, Linthicum, MD, 21090.
About Aloft.
Infused with the DNA of W Hotels, Aloft is a new destination sensation featuring loft-inspired design, accessible technology and a stylish urban attitude. Designed in conjunction with world-renowned David Rockwell and the Rockwell Group, aloft offers atmospheric public spaces where guests can mix and mingle, read the paper, work on laptops, play a game of pool or grab a drink with friends at the re:mixSM communal lobby area and w xyzSM bar. The re:chargeSM fitness center and splash pool give travelers options to de-stress and re-energize, while re:fuel by aloftSM offers sweet, savory, and healthy food, snacks, and beverages to grab & go, 24-hours a day.
Aloft opened its first hotel in 2008 and expects to open 500 properties worldwide in the next five years. For more information on aloft, please visit http://www.alofthotels.com and http://www.explorealofthotels.com.
About The Buccini/Pollin Group (Buccini/Pollin)
Buccini/Pollin is a privately held, full-service real estate acquisition, development and management company with offices in Wilmington, DE, Washington DC, suburban Philadelphia, Baltimore, and New York City. Buccini/Pollin has developed and acquired office, hotel, multifamily, townhouse, industrial, retail, and parking properties in the Mid-Atlantic and Northeastern regions of the United States. Buccini/Pollin has acquired or developed over $3 billion in assets, including six million SF of office, industrial, and retail space in 64 buildings, 3,200 hotel rooms in 17 hotels, six major residential communities, and 1,200 covered parking spaces. Buccini/Pollin is the largest privately held office landlord in the Philadelphia region.
About PM Hospitality Strategies, Inc. (PMHS)
PMHS is the hotel management affiliate of the Buccini/Pollin Group. Based in Washington, DC, the company manages all of BPG's hotel assets, providing development, technical consulting, on-site management, and accounting expertise. Concentrated in the Mid-Atlantic, PMHS manages full-service and select-service hotels in the Hilton, Starwood, Marriott, and Choice families of brands. Since the opening of its first hotel in 1996, PMHS has participated in the development and acquisition/renovation of dozens of hotels with a market capitalization of $1 billion. PMHS is a Starwood Preferred Management Company for Westin, Sheraton, Four Points by Sheraton, Aloft, and Element brands.
###