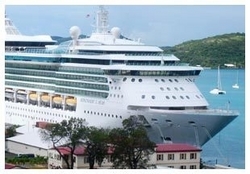 The Contribution of the North American Cruise Industry to the U.S. Economy in 2008
Fort Lauderdale, FL (PRWEB) July 29, 2009
The Cruise Lines International Association (CLIA) today released "The Contribution of the North American Cruise Industry to the U.S. Economy in 2008" report, detailing the industry's strong performance despite uncertain economic times, which began more than a year ago. The report can be found at http://www.CruiseIndustryFacts.com, a new Web site launched today by CLIA. The top line results show growth in four main categories: direct spending, total output, job creation and wages.
In 2008, direct spending in goods and services by cruise lines and their passengers totaled $19.07 billion, a two percent increase over the previous year. Adding indirect spending, which includes expenditures of cruise line vendors and those businesses that provide the goods and services to passengers and crew, the total gross economic impact in the United States was $40.2 billion - a six percent increase over 2007.
The cruise industry also generated 357,710 jobs that paid a total of $16.2 billion in wages and salaries nationwide, according to the report, which was compiled by Business Research and Economic Advisors (BREA) of Exton, Pa. CLIA began conducting a national cruise industry economic impact study in 1997, and has conducted one every year since then. Last year represents the eleventh consecutive year of growth in job creation in the cruise vacation industry.
"The cruise industry continues to be an engine of economic growth around the world and a positive force in the United States. While a two percent annual increase in cruise industry spending represents a slower rate of growth than our industry's historical averages, we are gratified and encouraged to post continued gains during this recessionary environment when many businesses are retrenching," said CLIA Executive Vice President Bob Sharak.
Passenger embarkations on CLIA member cruise lines at U.S. ports totaled nearly 9 million in 2008. Globally, 13 millions passengers took a cruise vacation last year, a four percent increase over 2007. Florida remains the center of cruising in the United States, accounting for 57 percent of all U.S. embarkations. The state is home to the top three ports in the nation - Miami, Port Canaveral, and Port Everglades.
Like Florida, California houses cruise line headquarters and ports of embarkation. During 2008, the state's four ports - Los Angeles, Long Beach, San Diego and San Francisco - boarded more than 1.4 million passengers, a 7.7 percent increase from 2007.
"From East to West and every state in between, cruising remains one of the most attractive alternatives for Americans demanding affordable prices and diverse options in their vacations," said CLIA President and CEO Terry Dale.
The cruise vacation industry's economic impact touched all 50 U.S. states, but it was greatest in 10 states, which accounted for 78 percent of direct purchases in the United States and 81 percent of the total employment and income. Those states are: Florida, California, Alaska, New York, Texas, Washington, Georgia, Hawaii, Illinois and Colorado.
Other key findings include:

Eight new ocean going ships were added to the industry's fleet in 2008, for a net gain of two vessels; the industry's 161 ships had a combined capacity of 270,664 lower berths.
The top 15 U.S. ports accounted for 94 percent of 2008 embarkations.
The total economic impacts affected virtually every industry in the United States; over 60 percent of the $40 billion total gross output and 40 percent of the 357,710 jobs generated particularly affected seven industries - nondurable goods manufacturing, professional and technical services, travel services, durable goods manufacturing, financial services, airline transportation, and wholesale trade.
CLIA estimates that a 2,500 passenger ship generated approximately $333,000 in passenger and crew onshore spending in a home port city in 2008. A similarly sized ship making port-of-call visits generated approximately $320,000 per U.S. port call.
The release of the industry's 2008 economic impact data coincides with the launch of CLIA's new information portal, http://www.CruiseIndustryFacts.com. The site is intended to provide information about the operations of the cruise line industry and highlights the industry's commitment to protecting the environment and ensuring the health and security of passengers while cruising. The portal contains information on the industry's compliance with national and international standards as well as best practices and various initiatives.
# # #