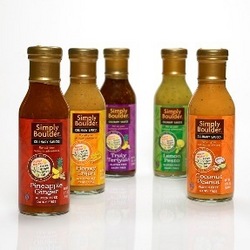 I'm very excited about having our products in Sunflower and another region of Whole Foods.
Boulder, CO (Vocus) July 29, 2009
Simply Boulder Culinary Sauces continues to grow and expand into more regions. Sunflower Market recently placed an order to bring Simply Boulder Culinary Sauces into each of their locations. Currently Sunflower has 23 stores across Arizona, Colorado, Nevada, New Mexico, Texas, and Utah. In addition to being carried in all Sunflower Farmers markets, Whole Foods South Pacific region has approved Simply Boulder Culinary Sauces to be sold within the region. This region includes Arizona, Southern California, Southern Nevada, and Hawaii.
"I'm very excited about having our products in Sunflower and another region of Whole Foods." Commented Seth Mendelsohn, Simply Boulder's President. "Our sauces have proved to be very popular in Colorado and surrounding states and it will be terrific to help more people that are looking for healthy and great tasting sauces in other regions."
Simply Boulder Culinary Sauces will be shipped to all Sunflower Farmers Markets during the week of August 3rd, 2009. During August they will start to be available at select Whole Foods within the South Pacific Region. This will be the second region of Whole Foods where Simply Boulder Culinary Sauces are available. Currently they are also in the Rocky Mountain Region which includes Colorado, Kansas, New Mexico, Utah, and Wyoming.
About Simply Boulder Culinary Sauces …sauces for all your culinary adventures.
Boulder-based Simply Boulder was founded in 2007 to produce the finest quality culinary sauces available. We invite you to explore a world of flavors when you use Simply Boulder's versatile sauces as marinades, drizzles or dressings; on pasta, salads or sandwiches; and for grilling, baking or broiling. All products are sweetened with agave nectar, gluten-free, 100% natural, and made with extra virgin olive oil.
Simply Boulder sells primarily to retail outlets and distributors in the western half of the United States. All products are available in 12 ounce glass bottles. For more product information, please visit http://www.simplyboulder.com.
Contact:
Seth Mendelsohn
303-507-0654
###