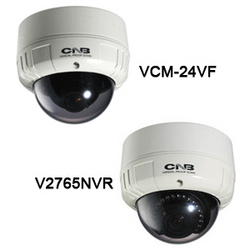 Farmingville, NY (PRWEB) July 29, 2009
CNB USA Technologies was established in 1999. Since then, they have become a highly ambitious company in the CCTV security industry. The industry is extremely competitive, but focusing on what matters most, the customers, CNB is able to provide high quality products with the latest technologies.
Network IP cameras, PTZ cameras, bullet cameras, dome cameras and PC-based and stand-alone DVRs are many of the quality products from CNB.
The VCM-24VF and V2765NVR are two new cameras that have CNB's new MONA LISA technology chipset. This new technology provides a sharper, high quality image and enhances the low-light sensitivity. What that means, is that the MONA LISA chipset allows for brighter and better visibility in low-light settings. The BLC (back light compensation) from this chipset dulls out bright light for better visibility during daytime. The DNR (digital noise reduction) efficiently reduces video noise and trailing effect to provide a pure, clear picture.
Besides the new chipset, these two cameras are packed full of high quality features. The VCM-24VF has an ultra high resolution of 600 TV lines in color and 650 B/W. A built-in vari-focal 2.8-10mm lens gives the VCM-24VF the ability to capture video and wide angles. Motion detection, privacy zone, and mirror mode are just a few other features provided with this model. The VCM-24F also comes in a vandal-resistant dome housing.
The V2765NVR comes with 530 TV lines of resolution. 20 IR LEDs allow for a minimum illumination of 0. That means that the V2765NVR can see in the darkest of settings. A 3.8-9.5mm varifocal lens allows the camera to capture video at different angles.
CNB continue to work on new technologies as the CCTV industry becomes more competitive. These new cameras with the MONA LISA chipset are proof that CNB has and will continue to stay aggressive in this industry for years to come.
###