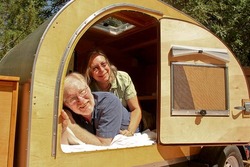 Just because a small town is bypassed by the Interstate highway that doesn't mean it isn't worth visiting.
Oracle, AZ (Vocus) July 28, 2009
James Cowlin closed his commercial photography business two years ago to follow his passion for landscape and nature photography. His exploration of US Route 89 started as a project to create a new portfolio of fine art prints. It grew into a major undertaking and a way of life which soon captivated his wife, Barbara, a painter and print maker. Now they hook up the "Pod", their unique teardrop trailer, and set out on a regular basis to drive the west's most western highway.
The Cowlin's hope to convey the mystique of a driving vacation on America's slow roads in general and US Route 89 in particular. As Barbara says. "Just because a small town is bypassed by the Interstate highway that doesn't mean it isn't worth visiting." They are working to change our current destination-oriented travel to appreciating the journey as an end in itself. By doing so, they also hope to contribute to the revitalization of communities along the way.
During their road trips on US Route 89, the Cowlin's have had many memorable encounters and found unusual sights. One morning while having breakfast at the Old Town Café in Cottonwood, Arizona, they heard some surprising music. Going outside they were met with the sight of a man giving an impromptu concert on a twelve-foot long Alpine horn.
A small poster in Gunnison, Utah, lead them to the Sanpitch dragon, a tile mosaic in an underpass on highway 89. Not only is the dragon beautiful, but it seems to roar when vehicles pass overhead.
A mural of a dinosaur on the side of an old church building in Bynum, Montana, prompted them to stop and investigate. Inside they found a world renowned gem and mineral shop presided over by 95-year-old Marion Brandvold. She told them the story of her discovery of a dinosaur nest that caused paleontologists to revise their concept of dinosaur society.
None of these experiences would have been possible if they had been speeding along the Interstate focused on a destination and not the journey.
The US Route 89 Appreciation Society website is a comprehensive resource for travelers who wish to create a different kind of adventure. "Instead of rushing from one national park to the next, we want to show tourists what they can do in between," explains James Cowlin. "If they slow down and take an extra day or two, they will be amazed at how much richer and more memorable their vacation experience can be."
When the journey is over, the website provides an opportunity for travelers to share their memorable moments or tell about the fantastic meal they had in a small town café. Through the Share Your 89 Stories function, anyone can add their photos and descriptions to the Road Trip Guides. By doing so, they will be contributing to the enjoyment of the journey for other travelers. They will also be helping to revive the often-bypassed but very deserving small towns along highway 89 and they will become part of the "slow road" movement.
James and Barbara Cowlin are optimistic that the time is right for the slow road movement to grab the imagination of the traveling public. Just as the slow food movement has changed the way people think about what, how and why they eat, the slow road movement will bring about a new attitude in vacation planning. With the help of fellow adventurers, real and virtual, members of the US Route 89 Appreciation Society are working together to build a new kind of road trip. Slowing down and enjoying the ride becomes a vacation rich in new possibilities.
###