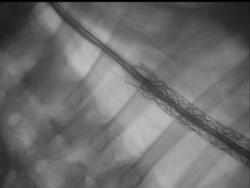 This ground-breaking technology can provide more accurate, detailed and comprehensive motion studies of implanted devices in real time
Randolph, NJ (PRWEB) July 29, 2009
Patent awarded for a new x-ray imaging technology with capability unrealized with present day radiological modalities.
To make sure that an implanted stent, shunt, heart valve, catheter, defibrillator or pacemaker is working properly, a high-resolution, magnified x-ray can reveal how the device is functioning. But until recently, observing the device with detailed x-ray magnification was not possible with conventional fluoroscopy, which in addition, requires alarmingly high radiation dose.
Now, a newly patented x-ray microscope technology makes it possible to see every wire in a stent, magnified 25 times larger than actual size, as clearly as if it were being viewed through a microscope, while exposing the animal and researcher to significantly less radiation than the current FDA dosage guidelines.
No other existing radiological technique - Angiography, CT, MRI, ultrasound or digital imaging -- has the ability to do this.
Gil Zweig, president of Glenbrook Technologies, the Randolph, NJ Company that developed the new technology, announced the award of a broad U.S. patent (7,426,258) for its application to preclinical animal studies.
"This ground-breaking technology can provide more accurate, detailed and comprehensive motion studies of implanted devices in real time," Zweig said, "with significantly lower radiation exposure, than can be achieved with currently available imaging modalities."
Many of the major medical device manufacturers in the United States are already using Glenbrook's real-time x-ray inspection systems to develop and ensure the quality of their products. Now animal researchers can apply the same technology to ensure that the devices function properly once they are implanted, without exposing the animal to high radiation levels.
Glenbrook has pioneered the use of real-time x-ray inspection technology since 1983. Its patented, award-winning innovations in x-ray imaging have been used worldwide in the electronics assembly industry, in security applications and in the manufacture of life-saving medical devices.
For more information, contact Gil Zweig at 973-361-8866 or gzweig(at)glenbrooktech.com.
###