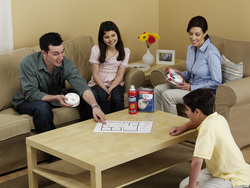 A few minutes of planning today can save valuable time and the lives of loved ones down the road.
Aurora, Ill. (PRWEB) July 28, 2009
Over the years, Americans have endured many different types of tragedies and crises - from Hurricane Katrina and 9/11 to countless tornadoes, earthquakes and other natural disasters. During these hardships, they have learned to expect the unexpected and to be ready for anything.
With this spirit in mind, the U.S. Department of Homeland Security has declared September as National Preparedness Month in an effort to educate people about natural and national disaster preparedness and to motivate families to plan ahead. In support of this year's "Ready Campaign," First Alert and The Lehigh Group, makers of home safety and security products, offer some simple tips for preparing homes and families to face unexpected emergencies.
"You never know when disaster may strike, so having a safety plan in place is the best way to prepare your family to face crises with confidence," says Deborah Hanson, director of external affairs for First Alert and The Lehigh Group. "A few minutes of planning today can save valuable time and the lives of loved ones down the road."
Tip #1: Create a preparedness kit.
When preparing for an emergency or potential disaster, basic survival items like fresh water and non-perishable foods are often at the top of the list. Just as important are necessities such as blankets, a first aid kit, transistor radio, flashlights, batteries, cell phone with charger, prescription medications, cash or traveler's checks and even a can opener. Extra items such as tools, matches and a compact, easy-to-use fire extinguisher should also be included in a safety kit. The new Tundra Fire Extinguishing Spray offers a familiar aerosol design and operation with no pin, pull or lever to squeeze - making it less intimidating to operate than a standard fire extinguisher. These items should be kept in a convenient, secure and dry location and at the ready in the basement or another area of the home with no outside windows.
Tip #2: Set alarms.
Carbon monoxide (CO) poisoning incidents escalate during hurricane season and heavy wind storms due to more frequent power outages when homeowners turn to fuel-burning generators or other fuel sources to cook, light, cool and/or heat their homes. To protect families from this "silent killer," CO alarms should be installed throughout the home, including one on each level and outside of every sleeping area.
Tip #3: Store valuables in a "safe" place.
Even if homeowners live in the safest town in America, having a safe at home can prove a wise investment when it comes to natural disasters. Through fire or flood, a safe can help protect important documents, family photos and sentimental keepsakes, as well as jewelry and other valuables. For the ultimate protection, look for a safe that is both fire resistant and waterproof (not just water "resistant"). Be sure to keep the combination in a secure place and share the location only with trusted family members and friends. Some safes offer fingerprint technology that recognize up to 10 different prints - allowing for quick and easy access during an emergency.
Tip #4: Keep security front and center.
Doors and windows are particularly vulnerable spots in a home during a major storm or natural disaster. Proper storm doors can protect exposed areas of the home from wind, precipitation and debris. For homes and businesses, vertical window guards like those offered by Leslie Locke help to keep flying debris from breaking glass and exposing a home's interior to outside elements. Security screen doors and window guards also can help keep homes safe from unwanted intrusion.
Tip #5: Secure outdoor items.
High winds can take a toll on the outside of a home. At the first sign of danger, secure outdoor items using rope or other cordage products to tie down outdoor furniture, plants, decorative items and more. A new innovation called Cordzilla is a bungee-style stretch rope with vinyl-coated hooks that help securely tie down items without scratching their surfaces.
For a complete home safety kit checklist or more information on National Preparedness Month, visit http://www.ready.gov, http://www.homesafetycouncil.org or http://www.firstalert.com.
# # #