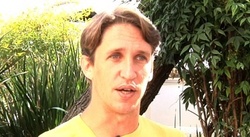 The ability to increase productivity by coordinating your organization, not just in pre-designed ways, but also enabling them to emerge organically has become significant
San Francisco, CA (PRWEB) July 28, 2009
Socialtext chairman, president and co-founder Ross Mayfield says that idea assimilation is undergoing a rapid transformation with the advent of the Web 2.0 culture. For Mayfield, the "need to know" culture, which historically has defined business practices, is giving way to a "need to share" mentality. This means that instead of companies closely guarding company secrets, businesses are sharing their ideas more openly, leading in many cases to increased productivity.
A video interview with Mayfield discussing the need to share culture is featured on IdeasProject, a website developed by Nokia. IdeasProject is an online "information space" that provides a new way to interact with thought leaders and their big ideas about the future of information gathering. For more on Mayfield's big idea, visit http://www.ideasproject.com/idea_person.webui?id=4414.
"The ability to increase productivity by coordinating your organization, not just in pre-designed ways, but also enabling them to emerge organically has become significant," explains Mayfield. "Methods of organizing projects and processes that are more agile, more iterative, and more adaptive, aren't necessarily disrupting the hierarchy, but augmenting them with different ways of creating interactions across the boundaries of the organization."
"Ross Mayfield is a true pioneer in the enterprise social software industry," remarked Valerie Buckingham, Nokia's director of technology marketing. "Mayfield points out another revolutionary effect the web is having on modern business practices. By facilitating the exchange of information, the Internet is making executives realize that the best way to stay ahead of the curve is to share your ideas about what you're working on, rather than keep it hidden from the world. We look forward to hearing more of Mayfield's provocative ideas on the need to share culture on IdeasProject."
Over the next month, editors from the IdeasProject are featuring their favorite ideas as submitted by the public and sending a Nokia N95 to the 'Big Thinker' who contributed. Share and submit your 'Big Idea' with the world by visiting http://master.ideasproject.com/userideasubmit.webui
About Ross Mayfield
A noted blogger and social entrepreneur, Ross Mayfield founded Socialtext, an enterprise social software company based in Palo Alto, California, in 2002. Socialtext enables company employees to collaborate and share information with one another, thereby increasing productivity. He began his career in the non-profit sector with the U.S.-Baltic Foundation, after which he moved to Estonia and served as a scriptwriter for, and advisor to the Office of the President of Estonia. He also served as Marketing Director of Levicom, one of the largest privately held telecom groups in Eastern Europe. In 1998 he co-founded RateXchange, a business-to-business commodity exchange for telecom. In addition, Mayfield has been VP of Marketing for a Fujitsu spinout and CEO of an enterprise risk management software company. He holds a B.A. in Political Science from the University of California at Los Angeles and completed the Management Development for Entrepreneurs (MDE) program of the Anderson School of Business.
About IdeasProject
IdeasProject, a project of Nokia hosted at http://www.ideasproject.com, brings together the most visionary and influential "big thinkers" to contemplate the big ideas that matter most to the future of communications. It is a new kind of conversation platform aimed at uncovering the connections between these thought leaders and their disruptive ideas. Explore the IdeasProject website, subscribe to its RSS feed, join its Twitter feed (IdeasProject), and come back often to learn about great new big ideas as they break.
About Nokia
Nokia is the world leader in mobility, driving the transformation and growth of the converging Internet and communications industries. We make a wide range of mobile devices with services and software that enable people to experience music, navigation, video, television, imaging, games, business mobility and more. Developing and growing our offering of consumer Internet services, as well as our enterprise solutions and software, is a key area of focus. We also provide equipment, solutions and services for communications networks through Nokia Siemens Networks.
###