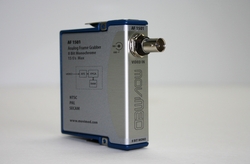 Irvine, CA (PRWEB) July 28, 2009
MoviMED (http://www.movimed.com) today announced its participation in the 15th annual NIWeek, the world's leading graphical system design conference and exhibition hosted by National Instruments. NIWeek 2009 opens Aug. 4 at the Austin Convention Center in Austin, Texas, for three days of technical sessions, targeted summits, hands-on workshops and interactive exhibitions on the latest developments for design, control, automation, manufacturing and test. More than 3,000 engineers, educators and scientists are expected to attend the conference to see presentations and demonstrations that explore how engineers and scientists can use cost-efficient and flexible technologies to boost productivity and lower costs.
MoviMED (Booth #540) will introduce the first analog frame grabber for the National Instruments CompactRIO embedded real-time platform. The MoviMED "AF 1501" targets applications such as robotic machine vision, medical devices and industrial imaging applications. The frame grabber will be supported by the NI Vision Development Module and allow for tightly integrated real-time image processing, data acquisition and motion control on one and the same platform. In addition to the AF 1501, MoviMED will also demo the MoviSCAN 3D high-speed 3D camera, allowing scan rates of up to 104 Million 3D points per second.
Readers can learn more about NIWeek 2009, register for the event or sign up to exhibit at http://www.ni.com/niweek.
About MoviMED
MoviMED (http://www.movimed.com) is providing custom imaging solutions for the medical, scientific and industrial markets. As a National Instruments Alliance Partner, MoviMED has been developing innovative machine vision solutions since 1999. The company has extensive experience in visible and non-visible imaging applications, such as Infrared and Thermal Imaging, UV and X-ray applications as well as visible applications involving high-speed 3D scanning and line scan applications.
About National Instruments
National Instruments (http://www.ni.com) is transforming the way engineers and scientists design, prototype and deploy systems for measurement, automation and embedded applications. NI empowers customers with off-the-shelf software such as NI LabVIEW and modular cost-effective hardware, and sells to a broad base of more than 30,000 different companies worldwide, with no one customer representing more than 3 percent of revenue and no one industry representing more than 15 percent of revenue. Headquartered in Austin, Texas, NI has more than 5,000 employees and direct operations in more than 40 countries. For the past 10 years, FORTUNE magazine has named NI one of the 100 best companies to work for in America. Readers can obtain investment information from the company's investor relations department by calling (512) 683-5090, e-mailing nati@ni.com or visiting http://www.ni.com/nati.
CompactRIO, LabVIEW, National Instruments, NI, ni.com and NIWeek are trademarks of National Instruments. Other product and company names listed are trademarks or trade names of their respective companies.
###