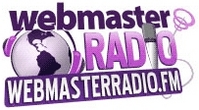 Fort Lauderdale, FL (PRWEB) July 28, 2009
WebmasterRadio.FM, the premier free, 24/7 Internet business radio network focused on the B2B marketplace announces a new episode of the new monthly radio series "Best Search Strategies", on Tuesday July 28th at 2pm Eastern Time.
This month's episode is a discussion on Search Engine Optimization versus pay-per-click, and which tactics bring the highest converting and most engaged traffic.
Engine Ready's President and CEO Jamie Smith and Vice President of Marketing Brian Lewis co- host the series with show host Jim Hedger and each month discuss findings from the Engine Ready Research Team's most recent studies on search marketing.
"As a practicing SEO, I admit to being a bit stunned but not entirely surprised by the results," said Hedger. "The Best Search Strategies series has been fun and interesting to record but this episode was especially interesting."
The next episode in the series is scheduled to be taped from the WebmasterRadio.FM booth on the show floor of the upcoming Search Engine Strategies Conference in San Jose, California next month.
Previous episodes of the new series have included:
Engine Ready's 57-Point Checklist on Finding the Right Search Agency
http://www.webmasterradio.fm/townhall-meeting/2009/best-search-strategies-finding-the-right-search-agency/
Study Results on Keyword Assists and 800-number Prefix usage on websites
http://www2.webmasterradio.fm/townhall-meeting/2009/best-search-strategies-study-results-on-keyword-assists/
All episodes of "Best Search Strategies" are made available same day on demand at http://www.WebmasterRadio.FM located inside the "Town Hall Meetings" channel.
About WebmasterRadio.FM
WebmasterRadio.FM lifts the "veiled curtain" of the Internet, bringing the business community together through an interactive radio network. Its listeners are a global group, comprised of everyone from corporate executives and decision makers to small and mid-sized businesses and individual entrepreneurs. WebmasterRadio.FM's stellar line-up of radio programming includes "CoverStory" with Jiyan Wei of PRWeb, WebmasterRadio.FM's official newswire; "The Hook with Katie Kempner" with Katie Kempner, Leader Bruce Clay and more. To tune into WebmasterRadio.FM's live content or check out the show, lineup, please visit http://www.WebmasterRadio.FM.
Media Contact:
Brandy Shapiro-Babin
954-736-4171
About Engine Ready, Inc.
Engine Ready, Inc. is a recognized leader in providing search marketing services and software, helping organizations achieve unparalleled success on their web initiatives. Managing paid search accounts in excess of 15 million keywords, and over $10.1 million in annual media spend, Engine Ready was the first organization to deliver companies the benefits of combining the power of website analytics with search marketing.
###