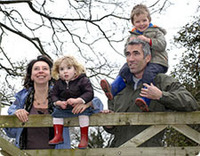 Most of us don't even want to contemplate the death of a child. The fact is tractors, quad bikes and children just don't mix. With weeks of school holidays ahead - it is time to ask:
Truro, United Kingdom (PRWEB) July 29, 2009
As part of a new safety awareness drive, at agricultural shows in the region, farm insurance specialists Cornish Mutual are warning parents of the danger to children of playing on farms.
Slurry pits, large machinery, farm animals and grain stores are some of the dangers being highlighted by the firm with figures from the Health and Safety Executive (HSE) showing that over the last ten years 31 children under the age of 16 years old were killed in the agricultural sector, as well as a further 12 between the ages of 16 and 18. Many have also suffered serious injuries such as leg amputations or serious burns.
The most common causes of death and major injury include falling from vehicles, being hit by moving vehicles or objects, contact with machinery, falls from height, drowning or contact with animals.
"Agriculture has one of the highest fatal accident rates of all industries in the South West," says Philip Wilson, Devon, Dorset and Somerset Area Business Development Manager for Cornish Mutual.
He adds: "As farms are homes as well as workplaces, children are often around and every year there are serious injuries or sometimes tragically deaths. With the warm weather, there will be many youngsters playing outside during the summer months and farms can be a real draw."
Providing secure play areas, keeping farm yards clear and tidy and ensuring stores, machinery and chemicals are stored away and locked when not in use are some of the ways in which farmers can reduce the risks according to Cornish Mutual.
Ian Shears (pictured) who runs an organic farm near Topsham in Devon offers educational visits to schools and is aware of the importance of reducing risks to children: "At Highfield farm we've looked carefully at every area to reduce risk as much as possible whilst still letting the children enjoy their farm visit."
"We have created safe areas where children can have their lunch with no hazards like machinery or traffic. We always talk to the children and teachers as soon as they arrive about safety."
"Overall I've found children to be very sensible about safety, but its essential children are supervised by a responsible adult at all times. We also like to ensure that we have the right insurance so that if the worst were to happen we know we have the right cover."
Roger Nourish, Head of the Health & Safety Executive's Agricultural Sector, said: "Most of us don't even want to contemplate the death of a child. The fact is tractors, quad bikes and children just don't mix. With weeks of school holidays ahead - it is time to ask: "How am I going to keep my children, and any friends or visitors, safe when they are on the farm?"
"Don't think for one minute that an accident couldn't happen on your farm. It only takes a second for an accident to happen. Yet, only a few seconds thinking time can make the difference and prevent the needless loss of young lives."
However, it is not only children at risk of serious injury or fatality on the farm - many farms in the region have public rights of way across land and walkers may also be at risk.
HSE figures also show that in 2007/08 there were eight fatal injuries among workers in the agricultural sector and 76 major injuries in the South West. There were also 10 non-fatal injuries to members of the public.
The Agricultural Wages Act means farmers are legally required to pay most full-time employees whilst they are off work due to injury. On a wider basis, legislation means all land owners and users are accountable for injuries which happen as a result of their activities.
Cornish Mutual provides its Members with a range of cover including farmers insurance which can indemnify farmers against these legal liabilities.
Insurance policies can help to offset the income lost as a result of an accident, and may be used to pay overtime to employees or hire temporary or replacement labour depending on the needs of the farmer.
Every farm is unique - Cornish Mutual offer farm insurance packages that can include public liability, employers' liability, property insurance, livestock insurance and personal accident cover. Other products include a tailored buy to let property insurance for property owners in the residential and holiday lettings markets, including public liability insurance, building and contents insurance, loss of rent insurance, employers and holiday home insurance.
For more information, contact:
Melissa Ward
Cornish Mutual
01872 277151
07702 673343
Notes for editors:
Founded by a group of Westcountry farmers in 1903, Cornish Mutual is the only general insurer based in the South West. Even today, the company is still owned by its Members, and remains at the heart of rural communities throughout Cornwall, Devon, Somerset and Dorset.
Although staying true to its origins in agriculture (around two thirds of Cornwall's farmers are Members), Cornish Mutual now provides household and holiday home insurance, commercial, events and personal accident insurance to Members of all descriptions, living or working throughout the South West countryside.
###