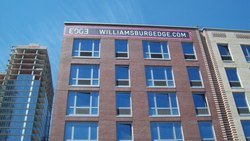 Freehold, NJ (PRWEB) July 30, 2009
Trusted Local Sign Company brings modern specialty services, including banners, car wrap advertising and custom political yard signs, to the Freehold and Monmouth County New Jersey area. With recent layoffs causing many people to take on business on their own, or shifting the focus of what we do, often the hardest thing for a small business to do is figure out how to get their name out there in an efficient and economical manner.
Banners
Banners provide a method to promote your business or event with a high visibility message. Compass can provide large building banners as shown in the attached photo installed on the sixth story to promote a high rise residential development in New York City, to smaller, retractable banners stands to get your message across at trade shows, fund raisers and other special events.
With the growing popularity and success of car wrap advertising, Compass Signs now offers solutions for businesses at great prices so they can stand out and be seen when parked or while driving down busy highways. Until recently, local Monmouth County, NJ residents were forced to go to outside providers for these services. Compass Signs now offers these services from a long time local business that you can trust. Research has shown that customers really take notice when the advertisements are done well.
With the constantly changing political climate, Compass Signs is specializing in Custom Political yard signs to supply New Jersey or national campaigns brilliantly designed signs that stand out. All of this from a small business that will treat you as a person and work closely to get the best out of money spent on these programs. In an era when customer service seems to be disappearing, Jeff Cherchia has been a trusted source for years and can be counted on to help you make the best decisions for your campaign graphics and novelties. Compass is always available with custom political yard signs for your primary or general election races. Candidates can stand out with great options that catch the eye.
Tradeshow season is here
Retractable banner stands have been growing in popularity. Compass will work with small businesses to create a great look to draw people to their display. Trade shows are often great ways to announce your business to the community, but it is important that you present yourself with a professional and respectful image. Great Tradeshow booths can help a small business differentiate itself from the crowd.
###