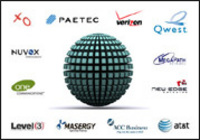 Salt Lake City, Utah (PRWEB) July 30, 2009
Complete Communications is proud to announce the launch of 2 new websites which explain about the broad number business telecom services they offer. Their goal is to save businesses money on their monthly telecom expenses by finding them better rates. Most businesses are not aware of the huge flexibility in pricing for telecommunication services, as well as the latest technology available. Communication services can sometimes even be upgraded, while lowering the monthly service rates. Complete Communications helps businesses upgrade their telecom infrastructure and technology so their business will be more scalable and run smoother and more efficient.
A lot of business owners have not reevaluated their telecom services because they think it will take too much of their time and only save them a minimal amount each month. The monthly savings on telecom services each month can be extremely beneficial, especially during these hard economic times. For example, one company in Provo Utah, had a monthly telecom bill of around $120K. Complete Communications was able to improve their services, and save them over $20K a month on their bill. That's $120K a year! Another smaller company was spending around $1000 each month. Their monthly bill was almost cut in half to around $550/month. For a small business, every penny counts. New products and services are also now available that can combine existing services and can drastically cut company's services fees. For example, new products exist now that can combine T1 Internet and local T1 phone lines, which could reduce a company's service fees in half. Taking the time to have a business telecommunications services evaluated can save companies a lot on communication bills each month, indefinitely.
Deciding which provider is best for a company can be a difficult and time consuming task. There are many providers that all offer great services, like AT&T, Verizon, Qwest, XO, Masergy, and Level 3. There are companies who are authorized agents for all of these popular carriers. They are the company's advocate and can evaluate a business' services and recommend the best product and service for a company. Companies like Complete Communications, will do all of the homework and recommend several different options based on a business' budget. Because of their long relationship with these providers, Complete Communications can also obtain better pricing on telecom services than businesses can acquire themselves.
Complete Communications has access to every telecommunications service that a business needs. The vast variety of business telecommunication services available include: Telecom Services, MPLS Networks, Ethernet Networks, VOIP Telephone Connections, SIP Trunking, Integrated / Dynamic T1, T1 Long Distance, Local Phone Service, Direct TV Triple Play, Triple play, Telecom Expense Management, Cellular for businesses, PBX / Phone Systems, Phone Disaster Recovery, Voice Broadcasting, and Predictive Dialers. Because Complete Communications are agents fo all of these services, they can combine all a business' services into one bill and for every network, phone, internet, and telecom service, which is real convenient for businesses.
Complete Communications also specializes in MPLS networks for businesses. MPLS networks are replacing traditional business networks by storm. Large companies are recognizing the advantages of MPLS are making the switch. MPLS prioritizes packets so important phone calls can receive a higher priority than someone downloading a joke from an email, all without phone calls loosing any quality. MPLS gives networks the highest level of security with the highest QOS. Like all of the other business telecom services, Complete Communications can match the ideal MPLS Network Service Provider to a business at the best price. With the vast number of clients nation-wide that Complete Communications has helped, they know which providers have the best QOS (quality of service) and which services will best match a business' needs, as they are not all created equally. Visit http://www.mplsprovider.com for more information specifically about MPLS Networks.
Contact Complete Communications for a free evaluation by visiting http://www.completecommunicationsinc.com, or by calling them toll free @ 1-888-732-3645.
###