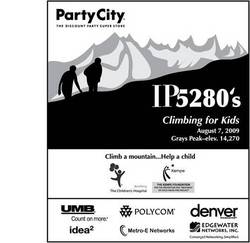 I'd like to especially thank our corporate sponsors for supporting the event and sharing our philosophy to help children in need.
Englewood, CO (Vocus) July 29, 2009
IP5280 Communications, which specializes in business VoIP and data communications through state-of-the-art unified Internet Protocol technologies, announced today it has signed multiple corporate sponsors for the company's 4th annual "Climbing for Kids" fundraiser. The event benefits The Children's Hospital Foundation to help children of the Ponzio Creative Arts Therapy Program as well as the Kiwanis Pediatric Trauma Institute of Colorado. Additionally, IP5280 is pleased to announce that The Kempe Foundation for the Prevention and Treatment of Child Abuse and Neglect has been added as a beneficiary of the Climbing For Kids fundraiser. IP5280 executives will lead the climb to the top of 14,270-foot Grays Peak on Friday, Aug. 7. IP5280 has already raised more than $20,000 in pledged donations and is currently accepting additional sponsors and donations, as well as climber registrations.
The following corporate sponsors have donated to help "IP5280's Climbing for Kids" possible:
Party City Corporation – With 11 stores throughout greater Denver, Party City is America's largest discount party goods chain and has over 500 company-owned and franchised stores in the United States and Puerto Rico.

UMB Financial Corporation – UMB is a multi-bank holding company headquartered in Kansas City, Mo., offering complete banking, asset management, health spending solutions and related financial services to both individual and business customers nationwide.
Denver Magazine – As Denver's luxury lifestyle publication, Denver Magazine features articles on Denver cuisine, fashion, sports and much more.
Polycom – Polycom delivers end-to-end, rich media collaborative applications for voice, video, data and the web and is a leading provider of HD Voice technology.
Edgewater Networks, Inc. – Edgewater is a company that develops products that ensure the secure and reliable delivery of IP-based voice and video for service providers and enterprises.
Idea2 Group – Idea2 specializes in the development and delivery of management tools that help businesses manage customer relationships, projects and business intelligence through an intuitive web-based platform.
Metro-E Networks – Englewood, Colorado based Metro-E Networks specializes in LAN and IT Managed Services, including design, implementation and management of network infrastructure.
"With more than 100 climbers expected to join us this year, IP5280's 'Climbing for Kids' is an amazing demonstration of how businesses can make a difference in the Colorado community, and in the lives of some very special children associated with The Children's Hospital Foundation and The Kempe Foundation," said John Scarborough, co-founder and Managing Partner for IP5280. "I'd like to especially thank our corporate sponsors for supporting the event and sharing our philosophy to help children in need."
"Everyone who reaches the top of Grays Peak will certainly have a reason to celebrate," said Lisa Laube, President of Party City Corporation, "and we are very happy to provide our support for all the good that The Children's Hospital and The Kempe Foundation provide to families throughout the Denver area and beyond."
"We're proud to support The Children's Hospital of Colorado, The Kempe Foundation, as well as the team at IP5280," said John Mastro, Vice President of UMB Bank Colorado. ' Climbing For Kids' is a fun event for a great cause."
For more information or to sponsor the climb, phone 303-800-0000 or visit http://www.IP5280.com. To watch the fun and action of last year's climb, visit http://www.youtube.com/watch?v=tjU0miGyiqg . To listen to the July 16th podcast featuring representatives from The Children's Hospital of Colorado, visit http://ip5280.com/index.php?option=com_content&view=article&id=150&Itemid=127.
About IP5280
IP5280 Communications is a next-generation global unified IP communications provider specializing in VoIP and converged IP voice and data services for business customers. Trusted by thousands of business enterprise users, communication agents, partners and wholesalers of IP managed services throughout the world, IP5280 solutions offer carrier-class communications for businesses large and small, with significant savings over traditional phone company business services. Selected by ColoradoBiz magazine among the Top 10 Best Companies to Work For in Colorado, and proudly ranked by the magazine as a part of the elite Colorado TOP250, IP5280 provides businesses the most advanced IP solutions to meet a variety of voice, data and IP networking needs. Visit http://www.IP5280.com or call (303) 800-0000.
Media contact: Jeff Rundles, The Unleaded Group for IP5280, 303-952-2565.
###