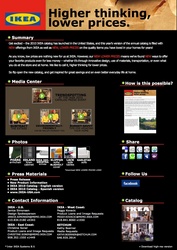 Conshohocken, PA (PRWEB) July 29, 2009
IKEA, the world's leading furnishings retailer, today announces the launch of the IKEA 2010 catalog in the United States. This year's version of the annual catalog is filled with new offerings from IKEA as well as new, lower prices on many of the quality items consumers have loved in their homes for years.
The IKEA business idea is to offer a wide range of well-designed, functional home furnishing products at prices so low that as many people as possible will be able to afford them. And still have money left over. While the IKEA 2010 catalog debuts brand new items to make everyday life better at home, it also showcases the brand's deliberate thinking to offer lower prices on favorite products. For example, in 1985, the KLIPPAN sofa sold for $395. In 2010, KLIPPAN is only $249. By designing smarter, using materials more efficiently and reducing transportation costs, IKEA continues to ensure customers get more for less money. The new lower prices on many items will roll out throughout the year.
"At IKEA, we are not happy until it's free," said Marty Marston, Product Public Relations Manager, IKEA U.S. "For us, lower prices are nothing new. From our earliest days, we've worked hard to keep our prices low so that we can realize our vision of bringing well-designed, quality home furnishings to the many. We constantly challenge ourselves to find smart solutions to pass along savings to our customers."
Shoppers can find wallet-friendly inspiration and new products for every room in the 2010 catalog, including:

Living Room - To celebrate its 30th birthday, a limited edition of KLIPPAN sofas -dressed in its very first cover, BLADHULT - will be released. Also debuting are new improvements to the Scandinavian classic POANG chair, including a wider selection of frames, fabrics and leather to suit different styles, and a rocking chair to add to relaxation.
Kitchen - IKEA can furnish an entire kitchen with its brand new appliance line, including: 1) French-door refrigerators, 2) energy-efficient dishwashers, 3) 24 or 30-inch thermal or convection ovens, 4) gas or electric stove ranges, and 5) range hoods with built-in halogen lighting. Plus, all items come with a five-year limited warranty. The popular IKEA 365+ line is also growing with the addition of GNISTRA, a line of sturdy kitchen knives with a 15-year warranty.
Adult Bedroom - Look no further than the bedroom to spot two home décor trends for 2010. Grey, the achromatic hue of the year, is elegantly brought to life by designers T. Christensen and K. Legaard with EDLAN collection, and the retro chic wood tone, walnut, makes a comeback with designer Henrik Preutz's ENGAN collection.
Child's Room - Give your child a new place to rest their head with the VYSSA mattress for children, designed to be firm, dry and safe using only child-friendly materials. Also new is the LEN STJÄRNA quilt, made of a renewable cellulose-based material friendly to the environment.
Please visit our multi-media release at http://www.IKEACatalog2010.com for downloadable press information on the IKEA 2010 catalog, including hi-res images, video and additional background materials.
About IKEA
There are currently more than 290 IKEA stores in 36 countries, including 37 in the U.S., where new stores are being planned in Somerville, MA and Centennial, CO.
IKEA believes home is the most important place in the world and, since its 1943 founding in Sweden, has offered a wide range of home furnishings and accessories of good design and function, at low prices so the majority of the people can afford them. IKEA has been ranked in FORTUNE's annual "100 Best Companies to Work For" List (three years in a row), Working Mother magazine's annual list of "100 Best Companies for Working Mothers" (four years in a row) and Training magazine's annual "Top 125" ranking of companies that excel at human capital development (five years in a row). IKEA incorporates environmentally and socially responsible efforts into day-to-day business, and continuously supports initiatives that benefit causes such as children and the environment. For more information about IKEA, please go to http://www.IKEA-USA.com.
# # #