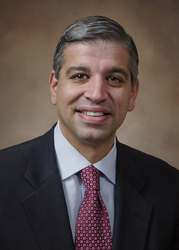 Expertise is what matters in treating the disease
Arlington Heights, IL (PRWEB) July 29, 2009
The Illinois Center for Pancreatic and Hepatobiliary Diseases has opened its doors at Northwest Community Hospital in Arlington Heights, giving new hope to pancreatic cancer patients.
The only center of its kind in Illinois, the new center's director is Dr. Malcolm Bilimoria, an expert on the surgical treatment of pancreatic cancer. Specifically, Dr. Bilimoria specializes in surgery of the pancreas with the goal being complete removal of the cancer. Thus far, he has performed almost 700 pancreatic surgeries.
"Expertise is what matters in treating the disease," Dr. Bilimoria said. He cites a study published in the New England Journal of Medicine in 2003 that shows that mortality rates were lower for high-volume surgeons and high-volume centers, and that this is particularly true with regard to pancreatic surgeries.
"This is a patient safety matter," he said. "Surgical volume should be part of any informed discussions patients have with their doctors." The new center at NCH will do more than 200 pancreatic surgeries this year.
Pancreatic cancer is the fourth-leading cause of cancer death in America, and is considered one of the deadliest cancers. This year, the American Cancer Society estimates there will be 42,500 new cases of pancreatic cancer and 35,000 deaths from the disease.
The pancreas is a gland about 12 inches long that is located deep in the abdomen. In general terms, it has two main functions: to help with digestion and to produce hormones that regulate sugar in the blood.
Pancreatic cancer begins when abnormal cells grow out of control within the pancreas. The types of cells involved in pancreatic cancer help determine the best treatment. There's cancer that forms in the pancreas ducts that help produce the digestive juices, and there's cancer that forms in the hormone-producing cells.
"Treatment of the disease is challenging because early detection is uncommon, the disease tends to be aggressive, and recurrence is likely," Dr. Bilimoria said. Pancreatic cancer is treated through chemotherapy, targeted drug therapy, radiation therapy and surgery.
"Surgery to remove a tumor offers the best chance for long-term control of all types of pancreatic cancer," Dr. Bilimoria said. "This is where experience counts, and it makes such a difference."
For more information about pancreatic cancer and the new Illinois Center for Pancreatic and Hepatobiliary Diseases at Northwest Community Hospital, visit nch.org/pancreas.
###