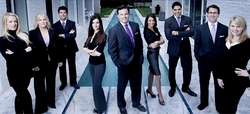 Atlanta, GA (PRWEB) July 30, 2009
The Bayne Group, one of Atlanta Georgia's top luxury real estate team's proudly announced the launch of its enhanced website, http://www.BayneGroup.com. Since 2001, this group has been one of the leading purveyors of Atlanta real estate, and the website is designed to provide prospective buyers with a superlative resource for homes in Buckhead, Ansley Park, Tuxedo Park, Brookhaven, Haynes Manor and Peachtree Heights.
The Bayne Group is headed by principal realtor Sam Bayne - one of the highest producing realtors in Atlanta since 2001 with over 200 million in gross sales. His successful business practices in the Atlanta real estate market are reflected in his approach to the objectives and design of the website. It is exceedingly user-friendly and easy to navigate, allowing visitors to quickly access information about the area, lifestyle as well as listings of properties through a comprehensive and complimentary MLS search.
The homepage is a well organized introduction to the site that not only provides an overview of the many services offered by The Bayne Group, but also two navigation sections. The top set of tabs offers a selection of vital information about the firm and its services. The 'Partners' tab allows you to meet the team, and the 'Concierge' tab lists some useful local resources that can be helpful for relocation. A standout feature of the website is the 'Sports & Entertainment' section - this service is specifically tailored to the many famous athletes and celebrities that currently reside in Atlanta, many of whom are on Sam's client list.
A second section labeled as 'Atlanta Real Estate Info' offers several links to area and property information. Clicking 'Buckhead Real Estate' for example takes you to a vivid description of the community and the types of properties available from charming single-family homes to opulent estates and mansions.
Accessing the many features of the website give a remarkably effective impression of the Atlanta real estate market. Visit http://www.BayneGroup.com to learn more.
About the Bayne Group: Created in 2008, The Bayne Group is comprised of experts in the Atlanta high-end luxury market in the single family, vacation home and condominium markets. Each member of The Bayne Group is a knowledgeable full time professional, focused on achieving results. Utilizing today's technology, expert marketing techniques and sheer determination to get a property sold as quickly as possible, the team is ready to achieve results.
About Sam Bayne: Sam Bayne is a real estate professional with over $200 million in sales since 2001. With a business degree from Skidmore College, four years on Wall Street and 14 years in the sports marketing business, Sam's proven success record stems from having the financial savvy and keen negotiating skills imperative for closing deals at the optimal level for his clients. Sam is an avid sportsman and enjoys spending as much free time as he can with his 7 and 10 year old boys. His wife, Katie, has spent 20 years working for The Coca-Cola Company and is currently Chief Marketing Officer for North America.
###