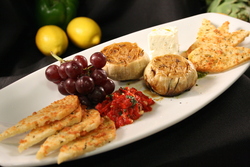 The yearly cooking competition fosters chefs' creativity and is part of a company-wide undertaking that celebrates BRAVO!'s culinary culture
Columbus, OH (PRWEB) July 30, 2009
BRAVO! Cucina Italiana, a BRAVO|BRIO Restaurant Group concept, BRAVO|BRIO Restaurant Group, is proud to name Kansas City's Shon Mickles winner of the 2009 "Culinary Competizion." A team of 17 judges gathered at BRAVO/BRIO Restaurant Group corporate headquarters in Columbus, Ohio, for the culinary showdown. Judges included culinary experts like Lorenzo Boni, executive chef for Barilla America and Rosario Del Nero, director of R&D at Joseph's Gourmet Pasta, along with local media personalities and BRAVO! chefs from around the country.
The "BRAVO! Chef Competizion" is an opportunity for BRAVO! chefs to exemplify the company's culinary mission of combining high quality ingredients and talented chefs to create food with reverence and love and to ensure guests' flavor experience. The six chefs chosen as regional finalists feverishly cooked and described their dishes to judges who tasted and compared, while a roomful of on lookers anxiously awaited the verdict. In the end, Mickles' "Tuscan Roasted Garlic" was named the ultimate favorite. Chefs from Pittsburgh, Orlando, Indianapolis, Cleveland and Des Moines went fork and knife against Mickles in the BRAVO! kitchen.
"The yearly cooking competition fosters chefs' creativity and is part of a company-wide undertaking that celebrates BRAVO!'s culinary culture," adds BRAVO! Cucina Italiana corporate chef Matthew Harding. "The judging involves a strict criteria with dishes evaluated on flavor, presentation, name and fit with the BRAVO! brand. BRAVO! continues to strive to be the best Italian restaurant company in America, with the 'competizion' spotlighting BRAVO's focus on high quality Italian cuisine."
Mickles' "Tuscan Roasted Garlic" combines wood-fired roasted garlic bulbs served with Boursin cheese, roasted red pepper relish and oven toasted ciabatta bread garnished with red grapes and pesto oil. Other contending dishes included Frutta Griglia, Fireside Scallops, Grilled Tuscan Veal Chop, Manzo Italiano and the runner-up, Stuffed Veal Braciole Parmesan, by Chef Eric Carter of BRAVO! Orlando.
"It is a tough contest and a true honor to win the top prize," states Chef Shon Mickles. "Knowing we have executive chefs in all BRAVO! kitchens, I knew it would be a tough competition. I am looking forward to the trip to Italy and hope that my dish will even make it onto the BRAVO! menu so I can share my inspiration with guests across the country!"
The contest invites all BRAVO! Cucina Italiana chefs in the United States to participate. In all, 44 chefs from 19 states competed this year. Kansas City Zona Rosa Chef Shon Mickles receives a trip to Italy for his winning "Tuscan Roasted Garlic." The 2008 Italy-excursion was the inspiration for many of the items found on the menu today. Over the past three years, many of the dishes from the "competizion" have become featured menu items.
For additional information on the news that is the subject of this release (or for additional photos or video), contact Kate McAndrews or visit PRWeb Press Release Newswire.
About BRAVO! Cucina Italiana:
BRAVO! Cucina Italiana is a casual, white-tablecloth restaurant offering classic Italian food amongst the shadows of Roman ruins. The subtitle "Cucina Italiana" means Italian kitchen, in which all cooking is done in full view of the guest, creating the energy of a live theater. BRAVO!'s popular entrees include wood-grilled steaks, chops, and made-to-order pastas and house specialties, similar to an authentic 'ristorante' in Italy. BRAVO! is part of Columbus-based BRAVOIBRIO Restaurant Group. Founded in 1992, BRAVO/BRIO Restaurant Group currently operates more than 80 restaurants including BRAVO! Cucina Italiana, BRIO Tuscan Grille and Bon Vie Bistro. Check the website for BRAVO! locations at BRAVO! Cucina Italiana.
###