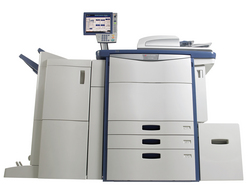 The timing of this promotion is ideal for today's budget-conscious companies that are looking to make the right investments in their business
Irvine, Calif. (PRWEB) July 29, 2009
Toshiba America Business Solutions Inc. (TABS) has announced their most aggressive leasing promotion appropriately titled "Back in the Black." Customers who lease a new eligible Toshiba MFP through Toshiba Financial Services between August 1 and October 31, 2009 will be eligible to receive free monochrome prints and copies for up to one year.
"The timing of this promotion is ideal for today's budget-conscious companies that are looking to make the right investments in their business," said Bill Melo, vice president of marketing and enterprise solutions, TABS. "Now they get award-winning, competitively priced, quality products on a lease they can feel confident in, and pay nothing for their monochrome prints for up to a year! This also allows Toshiba dealers to explore new product marketing opportunities by offering direct, tangible financial incentives that immediately and positively affect their customers' bottom line which is a win-win for everyone."
Customers leasing a new color product will receive up to one year of free black pages, or the maximum number designated, whichever comes first. Customers leasing a monochrome machine can receive up to six free months of black pages, or up to a maximum number of pages designated, whichever comes first. Eligible color models include the e-STUDIO2830c, e-STUDIO3530c, e-STUDIO4520c, e-STUDIO5520c, e-STUDIO6520c, e-STUDIO6520ct, e-STUDIO6530c and e-STUDIO6530ct. Eligible monochrome models include: the e-STUDIO305, e-STUDIO455, and the e-STUDIO555/655/755/855 series.
"As the 'managed print experts,' this is another example of Toshiba's commitment to partnering with customers to reduce output costs and ensure success in today's tough economic environment," continued Melo.
The promotion is available at participating Toshiba dealers and Toshiba Business Solutions outlets only. Certain restrictions apply, please ask dealer for details. For more information on this incentive program, to learn more about Toshiba products and services, or to locate an authorized Toshiba dealer near you, please call (800)-GO-TOSHIBA or visit the TABS Web site at copiers.toshiba.com.
About Toshiba America Business Solutions Inc.
Toshiba America Business Solutions Inc. (TABS) manages product planning, marketing, sales, service support and distribution of copiers, facsimiles, multifunction printing products, network controllers, and toner products throughout the United States, Mexico, Brazil, Latin America, and the Caribbean. Headquartered in Irvine, Calif., TABS has five divisions: the Electronic Imaging Division; the Toner Products Division; the Document Solutions Engineering Division; the International Division; and TOPAC U.S.A., Inc., dba Toshiba Business Solutions (TBS), a wholly-owned subsidiary corporation of TABS, that operates a network of wholly-owned office equipment dealers throughout the United States.
Named the most favored manufacturer ten times by the Business Technology Association (BTA), Toshiba's entire product line, customer support and marketing distribution policies are markers for the industry. Among the many other awards garnered in recent years, Toshiba was named the "Manufacturer of the Year" eight times by Marketing Research Consultants (MRC), and has twice been named to the CIO 100 for being among the top 100 "bold" (2008) and "agile" (2004) companies in the world.
TABS is an independent operating company of Toshiba Corporation, the seventh largest electronics/electrical equipment company and the world's 91st largest company in terms of sales. Ranked by Fortune magazine as the eighth Most Admired Electronics Company in the World, Toshiba Corporation is a world leader in high technology products with more than 300 major subsidiaries and affiliates worldwide. Fiscal year revenue in 2007 was approximately $76.6 billion.
For more information on Toshiba copiers, facsimiles, multifunction printing products, network controllers or toner products, or for a dealer in your area, call (800)-GO-TOSHIBA or visit the TABS Web site at copiers.toshiba.com.
###