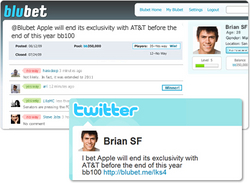 There are about 1.2 million predictions being made on Twitter on any given day.
San Francisco, CA (PRWEB) July 29, 2009
Dotblu, Inc. announced the launch of Blubet, a real-time social betting service that turns Twitter and Facebook status updates into a game.
Blubet players use their status updates to challenge friends or followers by betting on a future outcome, or by daring them to do something out of the ordinary. Blubet can transform virtually any Tweet - whether it is a personal status update or a commentary on a current event - into a fun and social bet.
Implicit bets are already common on social networks Facebook and Twitter, whether it be speculating about a current or future event such as a baseball game, an awards ceremony, or encouraging a friend to take an action. "There are about 1.2 million predictions being made on Twitter on any given day." says CEO and founder, Song Kim. "Blubet gives this behavior structure and interoperability in the form of a social game."
A crucial aspect of Blubet is its competitive nature. Each bet has winners and losers. Players receive Blubucks, Blubet's virtual currency, which can be accumulated over time. There is also a system of levels that rewards players for ongoing participation.
Blubet is device and social network agnostic in its aggregation of social bets. Bets can be initiated from Blubet.com, Twitter, Facebook, and mobile phones. Especially noteworthy is that Blubet is one of the first web applications to employ two-way Twitter integration. Not only do players push their bets out to Twitter, but they also place bets from Twitter. All bets are aggregated on Blubet.com where they are then distributed in real-time across all of these social media properties, and can be played by any friend and follower across multiple networks.
By creating a competitive, social betting application that can live on multiple social networks, Blubet has become the leading social betting service on the web.
About Dotblu, Inc.
Dotblu, Inc. is a San Francisco based company that is backed by Jawed Karim, Michael Birch, Ron Conway, other Silicon Valley veterans, and by the venture capital unit of the D. E. Shaw group.
###