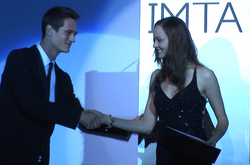 I wouldn't be where I am today if it weren't for IMTA.
New York, NY (PRWEB) July 29, 2009
Aspiring Models and Talent from around the world converged in New York City with the most influential Modeling Agents, Managers, Casting Directors and Scouts for one week at the renowned International Modeling and Talent Association (IMTA) Convention. At IMTA, the Models competed in Runway, Fashion Print, Jeans, Swimwear, TV Beauty Commercials and Makeup Competitions. The Talent competed in Monologues, Entertainment Host, Ready for My Close-Up, Sitcom, Commercial Print, Cold Read and Theatrical Headshots.
Agents from around the world were at IMTA to network with each other, discuss upcoming fashion trends and most importantly to scout for new faces for their agencies. Talent Agents, Managers and Casting Directors were also in attendance to find Actors, Singers and Dancers to represent. IMTA is known in the industry for debuting the best new-to-market Talent and Models including Katie Holmes (IMTA 1993 & 1995), Ashton Kutcher (IMTA 1997), Eva Longoria (IMTA 1998), Elijah Wood (IMTA 1989), Jessica Biel (IMTA 1994), Josh Duhamel (IMTA 1997), Six time Sports Illustrated Swimsuit Issue Model Jessica White (IMTA 1999), Vogue TV's Madeline Kragh (IMTA 2007), The Janice Dickinson Modeling Agency's Brian Kehoe (IMTA 2001) and Elite's Heather Isaacson (IMTA 2008). For more IMTA Alumni, please see IMTA.com.
One of the highlights of the week was the presence of IMTA 2008 alum model Branden Rickman, winner of Bravo's Make Me a Supermodel Season 2. Branden offered support and encouragement to the IMTA Contestants and inspired them to do their best in their competitions. He said, "Just a year ago, I was sitting in the same chairs you are. I competed at IMTA and caught the attention of the Bravo Network producers who were at IMTA scouting for Make Me a Supermodel. I came to their casting and as I was leaving, I heard one of the producers say, 'he's perfect for the show!' and I knew I was in!" Heather Isaacson, one of the hottest models working in fashion today also spoke to the crowd, saying, "A year ago, I competed at IMTA and signed with Elite! Dreams come true at IMTA!"
Another highlight was when Elite Modeling Agency's International Director of Scouting, Michaela Goddard-Quesada announced she was scouting at IMTA for one model who will represent the United States in the Elite Model Look International Finals televised live from China in October with models from 55 countries. Michaela said, "I chose IMTA to be the venue where I will find the Elite Model representative from the United States because IMTA is the best scouting event in America." Michaela narrowed her search to three models and will make the final announcement via Twitter.
IMTA covered the event all week long for the first time with live Twitter updates posted in real time. See IMTA's coverage on the Official IMTA Twitter Feed.
IMTA's Official Blog also had frequent updates and Convention highlights during the week. Alyson Stoner (IMTA 2000) stopped by to wish this year's participants well and Riley Smith (IMTA 1997) and his band The Life of Riley performed during the IMTA Jazz It Up Awards. Three time IMTA participant Dani Miura (The Hannah Montana Movie and the 2009 feature film Fame) was also in attendance and presented awards. She said, "I wouldn't be where I am today if it weren't for IMTA."
At the IMTA Callback Day, the Agents and Managers had one-on-one meetings with the models and actors they had spotted during the week and discussed the possibilities of a career in the industry. Many contracts were signed and hundreds of careers were launched.
The IMTA Awards Night on Saturday, July 25th saw the announcement of the Models and Talent of the Year. This prize is awarded to the Contestants who have the highest overall composite scores. Meandra Nel from Figures Modeling Agency in Johannesburg, South Africa won Model of the Year. Angel Alanis from John Albert Talent in Texas won Male Model of the Year as well as the Most Sought After Male Model of the Year. Alison Skildum from AIM-Caryn International of Minneapolis won the Most Sought After Female Model of the Year.
Jimmy Lepone from Barbizon-Chique of Philidelphia won Male Actor of the Year. Sibylla Deen from Nijah of Hicksville won Female Actor of the Year. Allison Farrow from Barbizon Chique in Philadelphia won Female Young Adult Actor of the Year. Max Devolder from AIM-Margaret O'Brien's/StarBound of Toledo won Male Young Adult Actor of the Year.
For more information on IMTA winners and events, please visit IMTA.com.
About IMTA:
IMTA is the most prestigious Association of Modeling and Talent Training Centers. IMTA produces two Conventions annually where Models, Actors, Singers and Dancers showcase their potential in front of the largest audience of Agents, Managers and Casting Directors ever assembled. Since 1987, IMTA has debuted an extraordinary number of modeling and talent stars who are working in the fashion and entertainment industry.
###