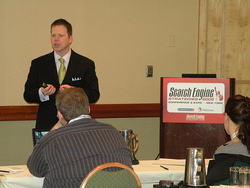 I've been in this industry for a long time
San Jose, CA (PRWEB) July 29, 2009
The seasoned search engine optimization (SEO) community, looking to hone and refine their skills and mingle with their peers, will find reason to celebrate at Search Engine Strategies (SES) San Jose 2009 from August 10-14. Throughout the event, there will be panels and presentations with the search industry's most respected and well-known experts. Topics include the future of search, technical innovation, and organic marketing growth. Held at the McEnery Convention Center, SES San Jose 2009 is the largest search engine marketing expo on the West Coast.
"I've been in this industry for a long time," remarked Site Logic Marketing president Matt Bailey. "But I can always rely on the SES conferences to make me aware of new developments, year after year. There's immediate access to industry professionals, plenty of new things to learn, and that next big idea to be shared. Plus it is always a treat to meet up with my colleagues."
Sessions recommended for the advanced SEO practitioner, by day, include:
Search: Where to Next discusses the future of the search industry and how to adjust strategies for the future with Beyond Ink's Anne Kennedy and a panel of six expert speakers.
Meaningful SEO Metrics: Going Beyond the Numbers focuses on how to move beyond page rank, indexed pages or linked sites and into metrics that can lead to higher profits and/or an increased budget.
Launching a Global Website tackles key issues critical to successfully developing, optimizing, and launching a global website and covers topics such as keyword research, geographical issues, cross-border management issues and more.
Duplicate Content & Multiple Site Issues looks at solutions to problems which may come up if a company runs duplicate content and mirror sites; several frequently asked questions will be addressed and answered.
Google Analytics and Website Optimizer, Secrets Revealed, a Google-sponsored session led by that company's web analytics team, presents straightforward, data-driven techniques to enrich a website and increase ROI.
The BuyerSphere Project: Understanding B2B Buyer Patterns looks at the history of the artificial separation of online marketing and traditional best practices and explains the habits of B2B buyers and how to influence them.
SEO Through Blogs & Feeds explains the unique advantages blogs and feeds can provide to search engine optimization.
News Search SEO presents information about how to make use of press releases and news content to tap into the power of news search.
Advanced SEO Roundtable: What is it Really? And Where is it Going? provides an all-encompassing definition of search engine optimization and addresses the idea of what qualifies someone as an advanced SEO expert.
In-House SEO: Structuring the Organization for Success, moderated by Rosetta SEO Director Chris Boggs, attendees can see marketers deliver the keys to success in building well-integrated search marketing programs.
For more information about the largest search engine marketing conference and expo on the West Coast, go to the SES San Jose 2009 website.
About SES
Incisive Media's Search Engine Strategies is a leading global conference and training series focused on search engine optimization and search engine marketing. Other Incisive resources for interactive marketers include the ClickZ network for digital marketing news, information, commentary, advice, opinion and research and Search Engine Watch which provides news and information about search, analysis of the search engine industry and tools for improving search marketing effectiveness.
Incisive Media is a leading global provider of specialized business news and information, in print, in person and online. The company's principal markets include financial services, legal services, commercial real estate, marketing services and risk management. Incisive Media's market-leading brands include Accountancy Age, Computing, Investment Week, Legal Week, LegalTech, Post, Real Estate Forum, Risk, Search Engine Strategies and The American Lawyer. For more information, visit http://www.incisivemedia.com.
###