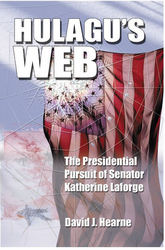 Hulagu's Web – The Presidential Pursuit of Senator Katherine Laforge
Amarillo, TX (Vocus) July 29, 2009
David Hearne, author of the politically controversial Novel "Hulagu's Web – The Presidential Pursuit of Senator Katherine Laforge" will be interviewed by Matthew LeBlanc on KFDA TV's "Early Show" Friday July 31, 2009. Tune into Amarillo's Channel 10 Friday morning at 5:30 am to catch David Hearne discuss his political thriller with Matthew LeBlanc the Executive Producer and Co-Anchor of the " Early Show."
Later that day, between 10 am and 2 pm David Hearne will be at Martha's Home, a shelter for homeless women located in Amarillo to help raise funds for this organization that is trying to change the lives of many women and provide temporary safe homes for their children. To help raise funds, David Hearne will be there offering copies of his novel for sale with proceeds from the event donated to the Martha's House organization. Learn about the wonderful work this charitable organization does to help those unfortunate women and children that have become homeless in Amarillo. Please stop by their location at 1204 SW 18th Ave., Amarillo, TX and meet Connie Garcia, the Director of Martha's Home and author David Hearne. Please help them help your community by participating in this fund raising event.
Martha's Home is a champion of providing second chances to homeless women and mothers with children. The shelter provides up to 90 days of assistance and a safe lodging for women who have become homeless because of various traumatic circumstances. The number of homeless women has increased dramatically while the ability to raise funds in this stagnant economy has been greatly reduced. Connie Garcia, the Director of Martha's Home invites all to attend this event and help support the good work her organization is doing for the people of Amarillo, Texas. The book signing and sales will be done at the "Martha's Home" address, 1204 SW 18th Ave., Amarillo, TX 79102. For more information or directions please call (806)372-4035.
Hulagu's Web – The Presidential Pursuit of Senator Katherine Laforge is a political thriller unlike any you've ever read. It details the tragic 2004 attack on the Senator's campaign bus near Charlestown, NH and exposes many secrets that led up to the deadly attack including shocking scientific experimentations by the CIA.
In her race for the highest office in the land, presidential candidate, Senator Katherine Laforge garners the enthusiastic support of millions of Americans because she dares to offer real solutions for the challenges facing society. It is easy for voters to support her, because she and her backers fight for democratic principles as originally drawn up by the American forefathers. Her campaign, however, is challenged and undermined by her political and corporate adversaries willing to use any means to stop her, even murder and assassination. Her opponents fear the draconian changes she proposes to free the US from foreign oil and fix our financial problem by replacing Income tax with a National Sales Tax. Her enemies feel their profits are in danger if she is elected and they scheme to defeat her and subvert the constitution in favor of their corporate agenda. The novel is a story of a conspiracy of staggering brilliance.
David Hearne's novel foreshadows many of the political and social issues America currently faces. The book also weaves fictional and reality together to create a compelling page turning conspiracy that makes it difficult to tell fantasy from reality.
More information is available at hulagusweb.com. Click here to view a video review of the book.
###