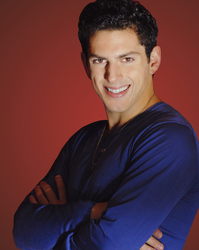 with lots of whipped cream.
Los Angeles, CA (PRWEB) July 30, 2009
Michael Bernardi is not only following in his father's footsteps, but taking his own path, making his stage debut in Cabaret at the Met Theatre.
Bernardi's father, actor Herschel Bernardi, died when his son was was only 2.
An Emmy-winner in the Peter Gunn series, the senior Bernardi was Tony-nominated for his Broadway stage roles as Zorba The Greek and Tevya in Fiddler On The Roof, known as the voice of The Jolly Green Giant and Charlie the Tuna and as Arnie on TV.
A star of early Yiddish theater, Herschel Bernardi was appearing on New York's Second Avenue stages with his acting family before he could talk.
His 23-year-old son is now concentrating on the stage, though he has done a few small film roles and is working on his own production.
In Cabaret, he has a featured role as Cliff Bradshaw, the American writer involved with Sally Bowles (Kalinda Gay), but wooed by Bobby (Korken Alexander).
A 2003 Beverly High graduate, Bernardi played middle linebacker and guard on the football team. "I went from football practice to show rehearsals," he said. "I went through a lot of deodorant.
"At some point I realized that I wanted to focus more on what my dream was; to immerse myself in theater and be an actor."
So he stopped playing football, even though he was team co-captain.
Acting was something he had always taken to. He told jokes at Passover dinner, "to a crowd of old Jews. I liked performing and talking to groups of people." And at 8, he was doing stand up at the Comedy Store.
He opened his act saying. "I have a hard life--I'm surrounded by women."
Audiences responded and soon he was given time slots reserved for seasoned professionals--who were not always thrilled.
Since he wasn't old enough to be in the club, he would perform and then sit in the kitchen drinking hot chocolate "with lots of whipped cream."
Finally, he decided he "wanted to be a kid" and told his mom he wanted to stop comedy and play Pee Wee Football.
So Bernardi's gone from comedy to football, football to theater.
He feels a strong spiritual tie with his father. "I used to sit on his lap at the piano every day," Bernardi said. Herschel Bernardi's recordings of lullabies allowed him to "father from beyond the grave," says his son.
After BHHS, Bernardi attended SUNY Purchase, earning a BFA degree.
He credits BHHS Performing Arts Department Chair Joel Pressman with much of his success there.
"He taught me great discipline," said Bernardi, who was a member of the Madrigals.
"When I got to the conservatory, there were all these kids and I was terrified. But I think the training at BHHS really did help prepare me."
Bernardi returned to Los Angles, looking for work--in the midst of the writers' strike.
A chance encounter with friend actor Edward Enriacas, who was in a show directed by his godfather, director Jim Eric, led to Bernardi's current acting stint.
Open since June, the show has earned him attention and helped him get an agent.
He will celebrate his 24th birthday "as a crooner" giving an hour-long concert at Vitello's Restaurant in Studio City.
Now he's ready to get back to basics and "be with people who are passionate about theater. I'm ready to hit the pavement; I feel like I have my ducks in a row."
Cabaret plays through Aug. 9., Thursdays-Saturdays at 8 p.m. and Sunday at 3 p.m. at The Met Theatre, 1089 N. Oxford St., Hollywood, one block east of Western Ave. and a few steps south of Santa Monica Blvd.
For Interviews with Michael Bernardi please contact:
Ray Rosenbaum
HEADLINES, INK
818-436-2250
###