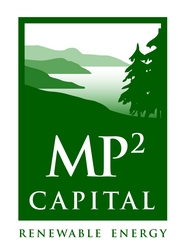 Mark and Charlie are both outstanding additions to our team, bringing not only deep relationships in the renewable energy industry and the investment community but also direct, successful development and operational expertise
San Francisco, Calif. (Vocus) July 30, 2009 -
MP2 Capital LLC, a leading renewable energy firm that develops, finances and invests in projects worldwide, today announced that Mark Lerdal has joined the firm as Chief Executive Officer.
Lerdal is an industry veteran with more than 20 years experience in the renewable energy sector as a developer, investor, executive and attorney. Prior to joining the firm, Lerdal was a partner at KKR Financial, LLC in San Francisco and Hong Kong.
The firm also announced the appointment of Charlie Glavin as Managing Director. Glavin has been an active player in the investment and technology industries for over 22 years as an investor, executive and award-winning equity research analyst.
At a time when the firm embarks on a growing portfolio of projects, both hires reflect MP2 Capital's commitment to employing industry leaders with strong pre-existing ties to the key players in the renewable energy sector.
"Mark and Charlie are both outstanding additions to our team, bringing not only deep relationships in the renewable energy industry and the investment community but also direct, successful development and operational expertise," said MP2 Capital Co-founder and Managing Director Brad Bauer. "We are thrilled to have them join MP2 Capital as they are a perfect complement to the culture of our firm."
Lerdal formerly served as President of KC Holdings, Inc., a developer of renewable energy projects. He also served as President and CEO of Kenetech Corporation, a San Francisco-based company specializing in the financing and management of independent electric power projects. He began his career as an attorney at the law firm of Brobeck, Phleger & Harrison.
Glavin was most recently an executive-in-residence for the venture capital firm New Enterprise Associates and also Chief Strategy Officer for Shanghai-based Spreadtrum Communications, Inc. Previously, Glavin worked as the senior global semiconductor analyst for Credit Suisse, Needham and ThinkEquity. He began his career as a fixed-income trader and analyst for Fidelity Investments and a senior product marketing engineer at Intel.
In addition to augmenting its team, MP2 Capital is moving its headquarters to San Francisco. The firm's new address is 4 Embarcadero Center, Suite 3670, San Francisco, California 94111-5905.
The overall expansion reflects MP2 Capital's increasing success in providing creative financing solutions for renewable energy projects worldwide.
About MP2 Capital
MP2 Capital LLC develops, finances and invests in renewable energy projects worldwide. The firm was founded in 2006 and has a track record of successful development and operation of multiple projects. The firm maintains a strong partnership culture that continually builds upon its deep and broad relationships with communities, landowners, local developers, utilities, energy providers, contractors, manufacturers, lenders and investors. The firm is headquartered in San Francisco, California. Learn more at http://www.mp2capital.com
Jeff Glavan, Managing Director
MP2 Capital, LLC
415-602-4769 (c)
Kevin Ellis, Partner
Kimbell Sherman Ellis, LLP
802.229.4900 x107
802.371.8112 (c)
###