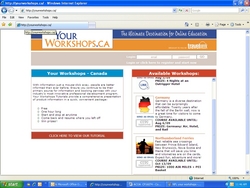 Charlottetown, PE (PRWEB) July 31, 2009
NFL Ferries have launched an educational tool to assist travel agents and those in the tourism industry to become more knowledgeable about their ferry services and operation. Travel Week's Yourworkshops was the chosen supplier to create and launch the webinar. The online course is available free at yourworkshops.ca and can be taken at anytime between now and October 13th, 2009.
The online course covers all the services offered by NFL Ferries including, Northumberland Ferries, Princess of Acadia, Bay Ferries, and includes mention of the ferry operated by NFL Ferries in Trinidad and Tobago.
The online course is available 24/7 and creates flexible training opportunities. For travel agents and visitor information centres this means they can take the course, when they have time, whether it is in 15 minute increments or to finish the course in one short sitting. There is no cost to take the course, it should take no longer than one hour to complete, and gives a chance to win a prize of 1,000 air miles and a PEI gift basket.
Don Cormier, Vice President of Northumberland Ferries talks about the opportunity to educate more travel agents saying, "This webinar gives NFL and Bay Ferries a method to reach more travel agents and individuals in the travel industry with information that can be accessed at their convenience. We are excited about this new initiative and look forward to having more people knowledgeable about our wide variety of ferry services."
Online course availability:
Course for Travel Agents
Course for Consumers and Tourism Operators
Northumberland Ferries Ltd. has been providing memorable experiences since 1941. With the new convenient NOWPass Reservations System, traveling with the ferry has never been easier. There are three ways to get on board; book online for a NOWPass Reservation, purchase an Assured Loading Pass from one of NFL's retail partners, or just show up at the terminal. Call Northumberland Ferries at 1-877-635-SAIL (7245) or visit Northumberland Ferries to learn more and to view the most current ferry schedule.
###