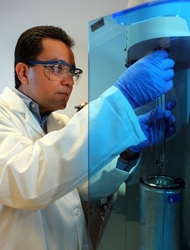 The standard of excellence being set by Dr. David Ramirez and our faculty in environmental engineering is truly inspiring
Kingsville, TX (Vocus) July 31, 2009
For the third time, a faculty member from Texas A&M University-Kingsville's environmental engineering department has been awarded more than $400,000 from the National Science Foundation (NSF) through their respected Faculty Early Career Development (CAREER) Program.
The CAREER Program offers the NSF's most prestigious awards in support of the early career-development activities of those teacher-scholars who are most likely to become the academic leaders of the 21st century. The program named Dr. David Ramirez, assistant professor of environmental engineering, one of those likely academic leaders.
Ramirez joins assistant professor Dr. Yifang Zhu and associate professor Dr. Jennifer Ren as the third faculty member from the A&M-Kingsville environmental engineering department to receive a CAREER award in the last four years. The three awards, combined, total more than $1.2 million.
"The standard of excellence being set by Dr. David Ramirez and our faculty in environmental engineering is truly inspiring," said Dr. Steven H. Tallant, president of Texas A&M-Kingsville.
"The fact that the National Science Foundation has invested more than one million dollars in three of the department's researcher-educators speaks highly of the abilities of Drs. Ramirez, Zhu and Ren. The awards also say that Texas A&M-Kingsville's department of environmental engineering offers a wealth of knowledge to its students, and the opportunity to be a part of important, relevant research in a burgeoning field.
"It is a department that is quickly becoming recognized as one of the leading environmental engineering departments in the country," said Tallant.
Ramirez received funding for a project that examines tiny, man-made particles called nanomaterials, which are smaller in size than a human hair and may serve as the basis of a variety of new technology for consumers, physicians, scientists and others. Ramirez is studying what happens when these new, original nanomaterials come in contact with air pollutants—do they change form and have negative impacts on human health, safety and the environment?
The specific title of Ramirez's project is "Research and Education of Adsorption and Desorption of Air Pollutants on Engineered Nanomaterials." He was assisted in the preparation and submission of the CAREER grant proposal by the Texas Engineering Experiment Station (TEES), the engineering research agency of Texas and a part of The Texas A&M University System. TEES continues to assist Ramirez with the administration of his CAREER grant. In addition, the Office of Research and Sponsored Programs (ORSP) at Texas A&M-Kingsville also helped in the preparation and submission of the CAREER proposal.
Ren received a CAREER award in 2005 for her work in examining the grouping and travel of contaminants in rivers and streams. Zhu received a CAREER award in 2009 for her work in understanding ultrafine particles in vehicular emissions.
"Having three NSF CAREER Award winners in one engineering department at the same time is testimony to the quality of the programs and the faculty, staff and students here at Texas A&M University-Kingsville," said Dr. Kim D. Jones, associate professor and chair of the environmental engineering department. "For the small size of the environmental engineering department with only eight total faculty, I think it is quite a research achievement along with the $2.8 million in research expenditures for the department in 2007.
"But I have to be honest, as pleased as I am with this accomplishment, I am not all that surprised either. These young environmental faculty award winners are talented people who came to Kingsville and saw something they liked–collaborative multi-disciplinary research, hardworking students, and faculty and staff mentoring to facilitate their professional development," said Jones. "As administrators we are always mindful of the phrase, 'Lead, follow or get out of the way.' Well, for these environmental engineering faculty at Texas A&M University-Kingsville, for the most part, I just get out of the way and let them produce."
When asked what effect the CAREER award will have on his work, Ramirez said a very positive one. "My CAREER award will establish multidisciplinary research and education programs on atmospheric transformations of engineered nanomaterials in the department of environmental engineering at A&M-Kingsville, with an international collaboration from Yuan Ze University in Taiwan. This award will consolidate my research work on sorption processes. Finally, this grant will recruit and mentor students from underrepresented groups and develop novel curriculum on nano-sorption processes to integrate research into education."
About CAREER Awardees:
CAREER awardees are selected on the basis of creative proposals that effectively integrate research and education within the context of the mission of their organization. Such plans should build a firm foundation for a lifetime of integrated contributions to research and education.
Contact:
Jason Marton
361-593-4143
Texas A&M University-Kingsville
###