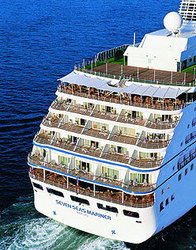 and those that choose to make their reservations now for next year will certainly benefit with the absolute best deals.
Los Angeles, CA (PRWEB) July 31, 2009
TravelStore announced its exclusive 2010 cruise program on Regent Seven Seas Cruises' (RSSC) three luxury all-suite ships: the 700-guest Seven Seas Voyager and Seven Seas Mariner, and the 490-guest Seven Seas Navigator. The most inclusive cruise experience ever by a luxury line is made one better with additional amenities: 2-for-1 Fares, Free Airfare, Free Shore Excursions, and Bonus Shipboard Credits.
With a product even more enticing with 2-for-1 cruise fares, free roundtrip airfare and free shore excursions on all 2010 departures, plus substantial credits guests may use onboard on select voyages toward spa treatments. By adding valuable amenities to a product that already includes all soft drinks, fine wines, premium spirits and onboard gratuities, TravelStore enhances the most inclusive cruise product ever offered by a luxury line.
"We are offering discerning travelers an incredible value on a luxury cruise experience to purchase almost every element of their cruise vacation upfront, and enjoy additional onboard bonus credits to ensure the most hassle-free, relaxed vacation at sea," said Dan Ilves, Vice President.
Limited Time Offer: Additional Savings up to $1,000 per person
For those booking and depositing on a 2010 Regent Seven Seas cruise by September 30, 2009, there is an additional $1000 per person early booking savings.
"Even in a challenging economy, people are unwilling to sacrifice their vacation experiences which are so enriching to their lives," added Ilves, "and those that choose to make their reservations now for next year will certainly benefit with the absolute best deals."
Worldwide Deployment in 2010
Varying in length from 7-night cruises in favorite cruise areas such as Alaska, Europe and the Caribbean to an around-the-world Grand Voyage of 119 nights, the 2010 RSSC programs continue to offer a truly diverse collection of luxury cruise options, living up to its brand promise of Luxury Goes Exploring® .
A total of 92 cruise departures encompass every major cruise area of the world: Asia; Antarctica; Australia/New Zealand; the South Pacific; India; Arabia; East, South and West Africa; North and South America; Northern Europe; the Mediterranean; Mexico, the Panama Canal and the Caribbean; and Alaska.
A Refurbished Fleet of Ultra-Luxury, Medium-Sized Ships
Following a major refurbishment program involving a total investment of around $70 million, the three-ship luxury fleet of RSSC is at the forefront of luxury cruising. Seven Seas Voyager and Seven Seas Mariner emerged in early 2009 from extensive refurbishment, and Seven Seas Navigator will receive a transformational makeover during a 22-night dry-docking in January 2010.
In addition to offering the largest lead-in suites at sea (minimum size 301 square feet), all of RSSC's award-winning suite accommodations feature walk-in closets and marble-appointed bathrooms. Combined with the highly professional, friendly service, the exclusive enrichment and entertainment programs, stellar cuisine with up to four dining venues, RSSC truly offers the luxury cruise traveler a relaxing all-inclusive vacation that is second to none.
Read more about Regent Seven Seas Cruises or view and compare RSSC itineraries, pricing and exclusive offers.
About TravelStore - TravelStore, an employee-owned company based in California with multiple locations, is consistently rated among the nation's premier travel companies and a preferred RSSC partner. TravelStore is a member of the prestigious Signature Travel Network, an ASTA Premium member as well an ASTA Green Member.
# # #