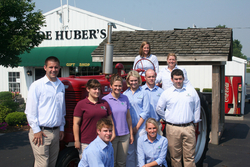 Farm Credit interns] have the opportunity to work and learn in a real work environment with mentors and professionals who work in agriculture. It's a great way for them to practically apply the skills they are learning in college and an exciting way to learn about the skills they will need in the workforce after they complete college
Louisville, KY (Vocus) July 30, 2009
Ten students from universities across Kentucky, Ohio, Indiana and Tennessee have been named interns for Farm Credit Services of Mid-America, a $15.5 billion ag lending cooperative headquartered in Louisville.
Students started working in paid internships in FCS offices throughout the four-state territory starting in late May and will wrap up the 10-week program in mid-August with formal presentations to the organization's senior leaders.
"Farm Credit interns have the opportunity to work and learn in a real work environment with mentors and professionals who work in agriculture. It's a great way for them to practically apply the skills they are learning in college and an exciting way to learn about the skills they will need in the workforce after they complete college," said Stacy Mullins, recruitment specialist with Farm Credit.
Mullins went on to say that the interns are working on a variety of special projects. For example, one of the interns is Nicole Fitzsimmons who an agriculture education major at Purdue University working in the Bluffton, Indiana office. Nicole is working on developing a post loan closing mailer focusing on life insurance. Mindy Osterloh is studying agriculture at The Ohio State University and is working in the Versailles, Ohio office. Mindy is putting together the public relations plan for the region's county fairs. "It's important to be able to support those activities and it's a good way to get Farm Credit's name out in front of the public," she said. Mindy is also working with the local radio station to have a Farm Credit day at one of the local fairs.
In addition to special project work, the interns attended a mid-term intern retreat which included touring Heaven Hill Distilleries in Kentucky and Huber Farms and Riverview Farms in southern Indiana. "The main objectives with the intern retreat were to foster support and camaraderie among peers and to expose interns to different types of agriculture. It also gives us the chance to address any questions they might have had as they prepare for their senior leadership presentations," said Mullins.
Certainly, the intern program is a benefit to the students. But Mullins said the program offers advantages to Farm Credit too. "These students bring a much needed diversity to our offices, offering fresh perspectives and varying backgrounds for our staff and our customers. We really feel like we learn from them and about the needs and expectations of the next generation of employees," she said.
Stacie Wenig is a senior at The Ohio State University. She is interning at Washington Court House, Ohio and is assisting the office in increasing their prospect base. "The lending staff is so appreciative of the research that I'm doing in helping their office succeed."
The opportunity to network and have a better understanding of what people do in the field of finance are certainly motivating factors for interns. And like many Farm Credit interns before, the experience may help them decide to enter the world of agricultural finance after their college career.
This year's interns include:
Kyle Adams, Western Kentucky University. Glasgow, KY
Ryan Conklin, The Ohio State University, Plain City, OH
Nicole Fitzsimmons, Purdue University, Columbus, OH
Nikki Land, University of Tennessee - Knoxville, Mohawk, TN
Mindy Osterloh, The Ohio State University, Versailles, OH
Jessica Quear, Purdue University, Cicero, IN
Heather Sutherland, Tennessee Tech University, Johnson City, TN
Travis Vicary, Middle Tennessee State University, Martin, TN
Stacie Wenig, The Ohio State University, Bowling Green, OH
Korey Young, Western Kentucky University, Louisville, KY
About Farm Credit Services
Farm Credit Services of Mid-America is a $15.5 billion financial services cooperative serving over 85,500 farmers, agribusinesses and rural residents in Kentucky, Ohio, Indiana and Tennessee. The association provides loans for all farm and rural living purposes including real estate, operating, equipment and housing and related services such as crop and life insurance and vehicle, equipment and building leases. For more information about Farm Credit, call 1-800-444-FARM (3276).
Contact: Randy Barbee
502-420-3756
###