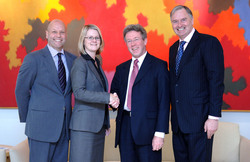 We are, of course, delighted to win this significant contract
Springville, UT (PRWEB) July 30, 2009
Digital Technology International (DTI) has today announced that it has signed a multimillion dollar agreement with News Limited to provide all of their Australian newspaper divisions with DTI Circulation, its advanced suite of newspaper circulation, distribution, marketing and reporting software.
The deal covers all of News Limited's 11 major operating divisions in Australia, with a total circulation of more than twelve million copies each week. It includes The Australian, the country's only national broadsheet.
This significant project further confirms News Corporation's commitment to investing in its printed products, and supports its stated aims of building greater audiences and creating further growth through improved relationships with its customers and the utilization of the best available technology.
DTI Circulation is already used by more than 1,000 newspapers around the world where it cost-effectively improves every aspect of circulation and distribution - from how subscriptions are processed, managed and renewed - to how products are marketed, billed and delivered.
"It has taken us a long time researching before making this important strategic decision," said Catherine Woodside, circulation director, News Limited. "We're very pleased that we can now start implementing what we firmly believe to be the best solution available.
"Importantly the software will allow us to manage circulation across all Divisions in the same way, and therefore enable News to interface with our customers in a common manner nationally.
"Superior internal management reporting, greater flexibility around retailer allocations, and improved Web access to our retail and subscriber customers, have all contributed to our decision to go with DTI Circulation."
In total there will be 325 people across Australia using the centrally based DTI circulation system.
"We are, of course, delighted to win this significant contract," said David Page, director, Digital Technology International Asia-Pacific Pty Limited. "Soon the delivery of the majority of all newspapers in Australia will be managed by DTI Circulation software. We shall then look forward to introducing the benefits of our audience-centric publishing solutions to other publishers - and growing our presence - throughout the Asia-Pacific region."
About Digital Technology International: DTI delivers audience-centric Web, print, and mobile solutions to publishers around the world. The company's unique technology and professional services help media organizations engage audiences by delivering targeted news, ads and entertainment. Whether onsite or via SaaS (Software as a Service), DTI software helps customers generate new revenue, reduce costs, manage resources, and make more informed business decisions. Its solutions are successfully implemented at more than 2.000 customer sites around the globe. DTI is headquartered near Salt Lake City, with offices in Australia, Brazil, Canada, Finland, Germany, Norway, Panama, the United Kingdom and USA.
###