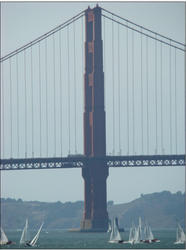 but rather a party designed for singles and couples in an upscale location, and we expect people to dress appropriately.
Concord, CA (Vocus) July 30, 2009
Professionals Guild announced today that is be hosting a Bay Area Red Light, Green Light party for singles and couples at the Golden Gate Yacht Club, 1 Yacht Rd., San Francisco, CA 945123. The party will be held on Friday, August 21 and it starts at 8pm and goes until midnight. Although this party is designed for singles, couples are also welcome to attend. It's called a Red Light - Green Light party because singles will be given a name tag with a green dot, which shows they are available. Couples will receive a name tag with a red dot. This San Francisco singles party will include a mixer game, party snacks, breathtaking views of the Bay, and DJ dancing until midnight. An added bonus is that convenient free parking is available nearby the Yacht Club. The cover for the party is $20
A mixed crowd of about 200 to 300 Bay Area singles and couples of all ages are expected to attend. All ages 21 up are welcome, but most people are 25 up and in their 30's, 40's, 50's, & 60's. Professionals Guild attracts single professionals -- business people who enjoy dancing, mingling and meeting new people. "It is not a singles bar," said Seyer, "but rather a party designed for singles and couples in an upscale location, and we expect people to dress appropriately." Jeans and tennis shoes are not appropriate. Lady's will be in attractive dresses or blouse and slacks; men, in suit and tie or dress shirt and slacks at the very least.
"We have a diverse and wonderful mix of people of all ages," said Seyer. "With 200 to 300 singles in attendance, there is a good chance of making new friends at this event.."
Music, Drinks, and Decks
A DJ plays flirting music from 8 to 9pm and turns up the volume from 9 to midnight. Still the volume is at a level where it is still possible to talk and have a good conversation. Two no host bars and 3 bar tenders are available to minimize the time it takes to order a drink. The Yacht Club has two decks where one can go to cool off from time to time after dancing. The DJ will feature music from 70's, 80's, and 90's to the best current hits. (Not much rap or hip-hop is played, although good current dance music is also part of the mix.)
Directions
From Marina Blvd, going toward the Golden Gate Bridge, cross over Divisadero and make a right on Yacht Rd. Go to the end of the Rd. Park in free parking lot leading up to the Yacht Club.)
To learn more, call 925-888-4392.
About Professionals Guild
Professionals Guild is the largest and most innovative singles organization in Northern California. Since 1984, Professionals Guild has been supporting single professionals by offering monthly dance parties and mixers for singles. Recently, Professionals Guild created ProGuildSocial.com