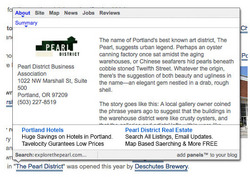 People love roll-overs that provide meaningful information, not just advertising.
Portland, OR (PRWEB) July 30, 2009
Panels Network today added two new capabilities that benefit users, publishers and advertisers to the beta version of its consumer information and advertising network.
The new Panels for Web Links and Panels for Internet Advertising are user-centric information and advertising information boxes that improve the effectiveness of Internet advertising by making Web links and ads more useful to users.
"Panels" are standardized information boxes that deliver detailed real-time information about any company, association, non-profit, or educational institution by simply rolling over a link or an ad on a Web page. Panels use a clean tabbed user interface to present concise, relevant information about an organization including; About the organization, Website links, maps, news, jobs, financials, site search, and more. The new Panels make any web link defined by publishers, or any advertisement, more engaging and useful to readers.
With Panels enabled on a Web page, users can effortlessly and quickly wade though both content and advertisements to hone in on relevant content and get the information the want instantly in an easy to read, consistent format without leaving the page they are on.
Publishers and bloggers can easily add Panels to web links, advertisements, or both with a single line of code. Organizations will be able to "claim their Panels" allowing them to add custom content, examine metrics, and add industry specific extensions.
"Panels is uniquely positioned to capitalize on the intersection of the proven acceptance of 'in-text' advertising and Web users' desire to quickly get more in-depth, useful, real-time information, without leaving the page or being drowned in advertising," said Craig Barnes, founder and CEO of Panels. Barnes added "People love roll-overs that provide meaningful information, not just advertising."
Two new offerings from Panels Network: Panels for Web Links and Panels for Internet Advertising
Panels for Web Links
Using the now well-known visual cue of a double underline, users launch a Panel with a simple mouse-over. Panels are materially different from in-text advertising because they only appear on web links defined by publishers, not random keywords. As a result, Panels are directly relevant to the editorial. Directory sites, such as job recruiting sites are particularly well-suited to Panels.
Advertising revenue can actually exceed the site itself while making the user experience better for the visitor.By focusing on the reader, the performance results of Panels are considerable. On average 10 to 15 percent of all Panels delivered are being opened voluntarily by readers. Panel ads occupy 20 percent or less of the screen real estate in each Panel and deliver useful and relevant content in addition to advertising.
Panels uses the OpenX platform inside of its Panels and can accommodate almost any type of creative ad units, though the focus is on text based ads and smaller graphical ad units. The company is offering free trials and the service can be implemented in minutes.
For a live example of Panels go to: Panels in Web Links Demonstration
Panels for Internet Advertisements
Panels can now be linked to Internet advertising. Users can "mouse-over" an advertisement and a corresponding "Panel" from the Panels Network will be instantly displayed. Users can get additional information about the company, product or service advertised without leaving the page.
Panel enabled advertising is designed to instantly and automatically improve any new or existing internet ad through increased click through rates, new engagement capabilities, or both. The reader clicks though the ad as they normally would, and Panels are only invoked if requested by the user, and is compatible with just about any ad campaign and technology. Panels Network causes no performance issues on publisher sites or blogs and can be installed in minutes.Early results have been shown to lift click through rates by 50% to 500% simply by the voluntary discovery by readers.
As with the "Panels for Web Links" offering, the company is offering free trials and the service can be implemented in minutes.
See a live example here of Panels that enhance ads automatically, simply roll over the 125 x 125 ads on the right hand side of the page. Panels in advertising demonstration
"Panels is one of those tools for publishers and advertisers where complete focus is actually on aiding the reader rather than interrupting them. You just don't see that often," said Colin Crawford, principal of consulting firm Media7 and former Senior Vice President of IDG.
Internet advertising veteran John Durham, principal of Catalyst SF, an internet marketing consultancy also applauded the unique approach of focusing on users first, "I've been familiar with Panels for some time and have watched it mature, and I think now the industry is ready for something like this. It's as easy as AdWords to implement and makes users happier while increasing revenue for publishers. Panels is a real win-win."
Anatomy of a Panel
Panels were inspired by the nutritional Panels found on food, and like these real world user-focused information tools, "Panels" have a standard user interface that delivers consistent, predictable, detailed, information. Panels delivers real-time information from a variety of data sources across several categories and are organized as tabs across the top of each Panel and to date includes;
"About" - Basic company and contact info, URL, logo, and summaries
"Site" - A full preview of the home page, stats, and other items about the actual site
"Map" - Beginning with Google Maps, and others to follow, a place for geographic data
"News" - Headlines, Blog posts, News, Press Releases and more from a variety of sources
"Jobs" - Employment listings across numerous providers such as Monster and Simply Hired
"Financial" - If a public company, real-time info and quotes appear in several sub-categories
"Site Search" - Lastly, in the lower left hard corner of each Panel, users can easily search just the target site directly from the Panel, with results opening up in a new window.
Each information "tab" has a "Sub-tab" region with options for the reader to navigate, for example "News" includes sub-tabs for Blogs and Headlines and "Reviews" includes Panels Network reviews option or an optional "Yelp" listing that pulls in reviews via the yelp API. All categories have a growing
list of data sources in development, as well as new capabilities altogether.
Panels: Not "in-text" advertising -- it's useful, relevant information, delivered in real-time
What sets Panels apart from other "In-text" solutions is its principled focus on providing value for the end user by delivering meaningful content in real-time. Instead of focusing on keywords, the Panels Network focuses on web links that are defined by publishers and writers. For example where "in-text" advertising vendors would place advertisements on "smartphone" and "wireless" in a story,
Panels would automatically enable the web links for "Nokia, Apple, Palm, and BlackBerry" where those brand names appear in the same story. The functionality is quite different in this regard in that Panels believes the subject matter is explicitly relevant if the author or publisher has taken the
time to enable a company's name and provided a relevant web link.
About Panels Network
http://www.panels.net
503.784.2020
Panels Network, the world's first "user-centric" information and advertising network, makes Internet advertising more effective by making Web links and ads more useful to users. Panels improve the experience for all of the constituents in the online ecosystem by making content more engaging for consumers, ads more effective for advertisers, and adding inventory and improving results for publishers.
Headquartered in Portland, Oregon, the Company was founded by serial entrepreneur Craig Barnes, previously founder of several venture backed high tech companies including Now Software, Extensis and Attensa. The company has raised $2.5 Million from its founder and several angel investors.
###