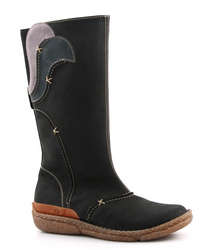 (PRWeb UK) July 31, 2009
Josef Seibel's Spirit of Nature range integrates environmental advantage with their reputation for style and comfort. Shoppers can now make their footwear choices based on current trends with the reassurance that their shoes will not only look great and have a comfortable fit, but they will also be earth-friendly.
Martin Ingram, managing director of Josef Seibel in the UK, and Ireland explains how the brand is reducing its environmental impact, "Josef Seibel has long taken its impression on the environment very seriously and with the aim to reduce its ecological impact, Josef Seibel has produced a range of shoes which are significantly more earth-friendly. The soles of the footwear are made from, a rubber and natural cork mix incorporating 14% renewable primary products making them more inclined to decomposition and 80% of the shoes' leather surfaces are made without the use of chrome. The foot beds contain recycled active carbon so they're breathable and anti-bacterial, plus we use recycled paper and cardboard for the shoe boxes and packaging. Josef Seibel's trademark hand stitching also reduces the dependence on adhesives."
Josef Seibel's reputation for quality and fashion has also been incorporated into this autumn's core collections with the new women's ranges featuring a variety of heel heights, including the on-trend wedge heel and the ever popular sportier flats. The basic essentials in footwear this season will be waxy, patent, crinkled and featured leathers with colour injections.
With many women favouring a more casual approach in fashion footwear, Josef Seibel's main ranges have taken a step towards informal dressing and the use of soft tailoring. Discreet shades and unique leathers, coupled with the increased variety of stylish colours, reflect a more effortless look which works perfectly for the transition from office to evening.
Comfort shoe brand Josef Seibel has been traditionally handcrafting high quality leather footwear for over a century, building a strong reputation for 'style with comfort'. With over 100 years of experience, the European footwear brand can't be beaten in terms of comfortable footwear. Introduced into the UK and Ireland in 1996, Josef Seibel has focused on designing collections with style as a priority but with comfort at the core.
For autumn/winter 2009, the collection will include 30 women's styles and 20 men's styles. RRP £55.00- £120.00.
For more information on the Josef Seibel collections, including their new 'Spirit of Nature' range, and stockists please visit http://www.josefseibel.co.uk or call 01603 307860.
Notes to editors:

Josef Seibel is one of Europe's longest established shoe manufacturers. The company entered the UK market in 1996 and has gone from strength to strength. Josef Seibel, UK and Ireland, now has annual retail sales of more than 15 million and has experienced a 30% increase in growth in the last three years alone.
Josef Seibel shoes, boots and clogs for men and women are available in over 700 quality multiples, department stores and independent footwear retailers throughout the UK and Ireland including John Lewis, Jane Shilton Concessions, Shuropody, Shoon, Clinkards and the Natural Shoe Stores. To search stockists by postcode, please visit http://www.josefseibel.co.uk
###