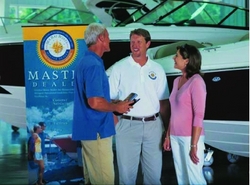 World's Largest Boating Party
Warwick, RI (PRWEB) July 31, 2009
Bassett Boat Company's 2009 Aquapalooza lived up to the title "World's Largest Boating Party". On July 25th, 1,000 people on 200 boats attended the Potter's Cove, RI event for a day of music, watersports, and other fun family activities.
Principle owner Diane Bassett Zable attributes some of this year's success to the new location where most of the attendees had never been before. Additionally, Potter's Cove, RI proved to be a more popular choice over Bassett's usual Connecticut-based Aquapalooza event.
Attendees floated on the water in rafts and tubes, provided by NAMCO Pools, as they watched a live performance by Willy Wayz & Friends, who performed on the bow of a new 440 DA Sea Ray.
"Next year we would like to form a circle around the band boat and keep the swimmers and floaters in the middle, making a large ocean pool!" Bassett Zable said, already looking forward to next year's Aquapalooza.
Bassett Boat staff members, including Steve Arnold and Stephanie Fraleigh, did a great job hosting the event, with Diane Bassett Zable, her husband Paul J. Zable and their boat load of teenagers! This event is Sea Ray Boats vision of the largest party on the water, taking place on the same day throughout the country!
Bassett Boat Company is a leading boat dealership specializing in Sea Ray and luxury Viking Sport Cruisers. To learn more about the Bassett Boat Company, visit http://www.BassettBoat.com.
# # #