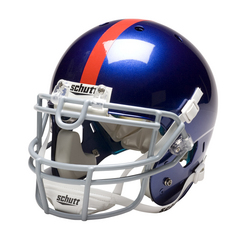 I've been wearing the same type of helmet from Schutt for a long time - even back to my days at Ol' Miss
Litchfield, IL (PRWEB) July 31, 2009
When quarterback Eli Manning hits the practice fields for the opening of the New York Giants' training camp next week, he'll be throwing to a backfield full of new receivers but he'll also be throwing from underneath a new helmet.
Just two seasons removed from winning the MVP Award in Super Bowl XLII, Manning will be wearing the new AiR-XP helmet from Schutt Sports.
"I've been wearing the same type of helmet from Schutt for a long time - even back to my days at Ol' Miss," says Manning. "I've always liked the look of the traditional helmet and always will. But the technology in this new AiR-XP made me take a closer look at it."
The AiR-XP features thermoplastic urethane (TPU) cushioning - a cushioning system first introduced to football by Schutt in 2003. Six years later, Schutt has refined the state-of-the-art technology even more.
"The new TPU cushioning system inside the helmet is different than anything I've ever worn," says Manning. "But I feel completely confident and comfortable in it. And it still has the traditional look that I prefer."
The TPU Cushioning System inside Manning's new AiR-XP eliminates the traditional foam padding found in nearly all other football helmets and replaces it with a series of cushions, which absorb and dissipate the force of impact from a tackle or collision.
Test results have shown TPU Cushioning performs significantly better in game-like conditions than foam padding, doing a better job of absorbing impact. It also has better heat management than traditional foam padding, allowing more air to circulate freely throughout the helmet.
The TPU Cushioning System is available in six different helmets produced by Schutt Sports, including several youth models.
###