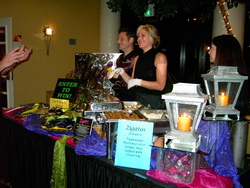 It's a nice combination of a Trade Show and party
Concord, CA (Vocus) July 31, 2009
Professionals Guild, the Ultimate Singles Party, announced today that it will again host its annual Business Networking Expo / Dance Party and Mixer for Singles. Couples are also welcome. To help local businesses and non-profit organizations in Sacramento and the East Bay Professionals Guild is lowering the cost for exhibiting and in some cases offering free exhibit space. The Sacramento Expo will be held on October 2 and the Bay Area Expo on November
"Small businesses need to have an inexpensive way to get the word out about their goods and services. Our Business Expo/Dance Party mixer offers exactly that," said Phil Seyer, director of Professionals Guild. "Businesses can also join the Professionals Guild social networking website ( ProGuildSocial.com ) and market their business there."
At ProGuildSocial.com businesses can market their goods and services by setting up personal pages and also posting blogs and participating in forms. Businesses are free to link to their own website if they like. Those businesses that participate in the Expo will be featured online and will get added exposure. Small businesses that don't yet have a website will be shown how they can set up an attractive and useful website at no cost.
Many kinds of businesses exhibit at the Professionals Guild Expo including, dating coaches, dating services, chiropractors, painters, massage therapists, nutritional consultants, dance studios, theatre groups, hair stylists, passion party hosts, belly dance schools, beauty consultants, catering services and many others.
"This year, with the lower exhibit cost, we expect an even greater turn out of exhibitors," said Seyer, "The half-price special for party goers will also bring a good turn out of those attending the Expo and party." Support from radio stations like V101.1 and papers such as the Sacramento News and Review and the East Bay Express also help to swell the crowd.
"It's a nice combination of a Trade Show and party," said Seyer, "To get good attendance for the exhibitors we offer a 1/2 price cover ($10) for those that come early for the trade show. We also do a good job of sending everyone to the exhibit tables by offering a chance to win prizes to those that visit a minimum number of exhibit tables." Trade show hours are 7pm to 10pm. The party goes from 8 to midnight.
For more information, those interested in exhibiting or attending the Expo may visit Professionals Guild, the Ultimate Singles Party website or contact Phil Seyer in the Bay Area at 925-888-4392 or 916-772-7555 in Sacramento.
###