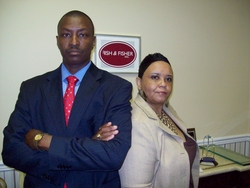 Indeed, Fish & Fisher were more qualified than L & T
Jackson, MS (PRWEB) August 12, 2009
An American Arbitration Association panel awarded minority contractor Fish & Fisher $1,283,351 in a dispute with white owned L & T Construction. The dispute arose over work performed by Fish & Fisher at the Blue Springs, MS construction location to build a Toyota Prius Plant. During the arbitration hearing, sworn testimony by Leavy Harris of L & T revealed that L & T Construction never entered into a joint venture with M & H Construction, as had been announced by the Mississippi Development Authority (MDA) and Toyota. This statement is crucial to the civil action filed by Jackie Williams and Renna Fisher, African American principals of Fish & Fisher, in the United States District Court for the Southern District of Mississippi, Western. (Arbitration Case No 69 110J00428 08 / American Arbitration Association)
Division (Civil Action Case 3:09 CV179 DPJ-JCS).
Fish & Fisher filed a multi-million dollars lawsuit in February (2009) alleging that Haley Barbour, Governor of the State of Mississippi; the Mississippi Development Authority (MDA) and Toyota of North America, conspired together to deny Fish & Fisher the opportunity to bid as a prime contractor with Toyota. The complaint alleges that Barbour, MDA and Toyota discriminated against Fish & Fisher because of their race in that only white owned construction companies were allowed to bid on the $1.5 Billion Dollar project.
"Testimony during the arbitration also revealed that L & T Construction did not meet the qualifications to bid on the Toyota contract as plaintiff's alleged in their complaint," said Byron Perkins, attorney for Fish & Fisher. "MDA and Toyota announced a joint venture between L & T and M & H; however, that joint venture was never entered into according to Harris. Fish & Fisher alleged that when L & T failed to meet Toyota's qualification and failed to create the joint venture with M & H, the project should have been re-bid. However, the project was not re-bid because of L & T's relationship with Barbour. Harris described his relationship with Mississippi State Government to be, 'as strong as a deer.' Testimony also revealed that Harris purchased air time for Barbour's gubernatorial election campaign," Perkins added.
Fish & Fisher, a ten year old minority-owned Construction Company, met with Toyota and was instructed that they needed to be certified by the National Minority Supplier Development Council, to qualify to do business with Toyota. Fish & Fisher were certified. "At the time MDA and Toyota bided the project, Fish & Fisher was the only minority construction company qualified to bid on the Blue Springs project," said Jackie Williams, vice president of Fish & Fisher. "Indeed, Fish & Fisher were more qualified than L & T," Williams continued.
"We are pleased with the arbitration award," said Renna Fisher, president of Fish & Fisher. "This payment will allow us to stay on course and pursue justice through the civil law suit we filed against Toyota, MDA, and Governor Barbour," Fisher added.
###