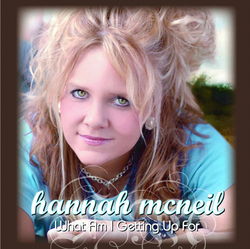 I want to make a difference in this world
Nashville, TN (PRWEB) August 20, 2009
Due to the changing environment in the music industry, singer-songwriter Hannah McNeil is taking the road less traveled and has released her new country single "What Am I Getting Up For" under Spinville and Red Records. The new song is an empowering collaboration with hitmaker Jeffrey Steele and Jesse Wray featuring witty lyrics and a catchy melody that has already hit a chord with fans young and old alike. As an independent artist, Hannah McNeil is taking a new approach to the music industry by releasing her single on Spinville and Red Records directly to both reporting and non reporting country radio stations across the United States and Europe this week.
Robert K. Oermann, a music reviewer for Music Row Magazine, recently named "What Am I Getting Up For" its DISClaimer disc of the day. In the August 14 edition of the reputable magazine's newsletter, Oermann writes "One release here towered above all the others. That is 'What Am I Getting Up For' by Hannah McNeil. It is, unquestionably the Disc of the Day…. This is one excellent little record." The magazine's previous DISClaimer was from country superstar Kenny Chesney.
"I want to make a difference in this world," McNeil says. "I strive to put out songs that when I see a 5-year-old singing along in the front row, I don't cringe because the lyrics are compromising…or a 35-year-old singing my songs at the top of her lungs in her car about being strong…it's cool. It's about empowerment, however old you are….and there's a lot of good in this world that often goes overlooked. Sometimes people have a tendency to focus on the negative – and I just want to show them that there is another way to look at things."
Listeners are already responding to McNeil's refreshing lyrics and sound. One reviewer writes: "A bright new star is brilliantly being both heard and seen, shining ever so brightly, emphasis on brightly, because that's just what she presents: actual music with real meaning relating to real life and its challenges. At this stressful time in society, her music speaks to the issues we're living with and often struggling through.... Hannah McNeil has struck on the heart chords that touch our hearts where they hurt.... Listen to music that embraces us where so often we are, whether in pain, fear, stress, as well as joy, courage and wonder-filled love. Listen up for a whole new experience. I loved it."
Digital downloads can be obtained from iTunes, Amazon and many other online sources. The hard copy of McNeil's full length CD release "Hannah McNeil" can be found on as McNeil's online store at http://www.HannahMcNeil.com as well as http://www.CDbaby.com
For more information about country singer and songwriter Hannah McNeil or her debut single "What Am I Getting Up For," visit http://www.HannahMcNeil.com.
# # #