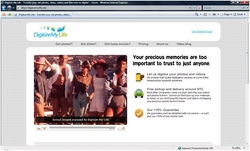 Most families don't have time to consolidate and preserve their assets in a digital format
Brooklyn, NY (PRWEB) August 4, 2009
New York City-based technology entrepreneur Mark Davis today announced plans to completely digitize his life by the end of 2009.
The daunting task will include digitizing more than 20,000 family photographs spanning 150 years; 2,000 slides from the fifties and sixties; 50 videotapes of home movies; a hundred years of family archival documents; 3 boxes of vinyl LP's; about 50 mix tapes; 10 boxes of financial records and business documents; and all of his family's financial records.
Davis will convert all of this content into digital format, which he will then store on his iPhone 3GS for easy and instant storage and retrieval. If successful, Davis will shrink a "closet full" of paper and plastic into his pocket. This has profound implications in terms of the management of personal data, and Davis will share what he learns on his video blog and Twitter feed.
Davis is a respected technology and media entrepreneur based in New York City. He is CEO and founder of digital services provider Digitize My Life, Inc, http://www.digitizemylife.net which helps consumers transfer their old photo albums and videos into their computers, easily and affordably.
"Most families don't have time to consolidate and preserve their assets in a digital format," said Davis. "Photos, film reels, slides and videotapes are assets just like money, but their value is priceless, when considering their sentimental significance. Videotapes, for example, start to degrade after about 15 years. If these memories are not converted into a digital format, they can be lost forever. Our mission is to help people digitize those assets for safe keeping and enjoyment."
"We feel strongly that digitizing one's life provides a real sense of peace of mind, so I have embarked on a personal journey to completely digitize mine", emphasizes Davis. "I'll share everything I learn through the video blog and on Twitter, which I hope will be helpful to other people who may want to do the same."
You can follow Mark's story on his video blog and on Twitter.
About Digitize My Life:
Digitize My Life is New York's premier personal digitization service. Offering free pick-up and delivery in the New York area, the company gives consumers an easy and cost-effective way to preserve and enjoy the priceless memories they've captured over the years - including their old videotapes, home movie reels, photo albums and slides. The company picks up these assets from its customers homes, digitizes them, and delivers everything back on a USB flash drive that can be plugged into a Mac or PC. Digitize My Life is known for providing exceptional customer service, and provides a 110% money back guarantee on all services it provides. More information can be found on the company's web site at http://www.DigitizeMyLife.net.
About Mark Davis, CEO & Founder, Digitize My Life:
Mark Davis made his mark on the digital world as CEO of venture backed tech startup, Fresh Baked Studios, the first company to transmit streaming video via satellite in 1999. Davis then spent 8 years at BT Media & Broadcast (NYSE: BT), most recently as Vice President of Business Development, where he was responsible for negotiating large technology outsourcing deals with media companies including NBC Universal and Viacom/MTV Networks, and also worked closely with private equity firms like Quadrangle Group. Davis began his career at William Morris Agency representing bands like Nirvana, Pearl Jam and The Eagles. Mark is currently CEO of two tech startups, both based in New York City: Scenios, a cloud-based Digital Asset Management platform that will be available as a private beta beginning in September; and Digitize My Life. Mark has an MBA in Finance from Baruch College and his BA in Business from Towson University. He is a member of the Media Council at the Paley Center for Media.
Hillary Herskowitz
Digitize My Life Inc.
212.537.9444
###