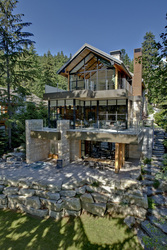 Interestingly, the creation and execution of simple clean lines and minimalist design is every bit as complex as an overtly ornate theme
Whistler, BC, Canada (PRWEB) August 4, 2009
While the eyes of the world turn to Whistler for the upcoming 2010 Winter Olympics, this world renowned ski resort is garnering attention of a different kind - summer visitations are increasing dramatically and as more people discover the town's diverse appeal, so too is the demand for luxury homes that capture the best of all seasons - spring, summer, winter and fall.
Les Saisons, a 5,000sq. ft architectural masterpiece located on the shores of Whistler's Alta Lake was designed and built as a true four season retreat. A private dock, stunning views across the lake to Rainbow mountain and a warm western exposure are paramount to capturing the essence of summer, yet the home is a mere 5 minute drive from the ski lifts.
"When I first discovered Whistler it was all about the skiing" said owner David Svendsen, who primarily resides in England.
"Whistler had been recognized as the number 1 ski resort in North America and was making a name for itself on the global stage. But it wasn't long until I, like so many locals, fell in love with the year-round offerings of this extraordinary resort town," he explained.
For this reason, Svendsen chose to buck the trend of building a slopeside ski chalet and opted to create a unique waterfront four season retreat, capturing the essence of all things Whistler.
Within a year of Les Saisons' 2005 completion, summer visitors to Whistler had reached a record 1.4million which, along with a three year positive average growth trend, reinforced Svendsen's sentiment about Whistler coming into its own as a summer destination resort.
Under Svendsen's guidance, architect Michael Rose and builder Matheo Durfeld painstakingly created Les Saisons, a modern contemporary masterpiece which stands alone in its distinctiveness.
The home's exterior of hand cut granite, Corten steel and glass is the first clue that this is in no way a typical ski chalet.
"Many exclusive Whistler homes feature log construction and strive for a very alpine feel, but we took a modern, minimalist approach, with a more edgy, almost industrial appeal," said Matheo Durfeld of Durfeld Construction.
"Interestingly, the creation and execution of simple clean lines and minimalist design is every bit as complex as an overtly ornate theme", Durfeld explained.
"This not only suits the waterfront location, it's also incredibly practical for a family who live an active, outdoor lifestyle."
This love of nature is manifest throughout the home as the design consistently brings elements of the outdoors into the house itself. At the entrance, the somewhat rugged stonework from outside continues into the foyer area, with floor to ceiling glass creating the only separation. On the main floor the unique window pane configurations gives a sense of looking at the lake and mountain views through a series of picture frames - each offering a different vista.
The challenge of creating a home for all seasons was not lost on architect Michael Rose, who lived in a cabin on-site for 6 months as he conceptualized Les Saisons. Here he mapped out every intricate feature, from ensuring each room in the home has a lake and mountain view, to determining the exact dimension of every panel and integrated light fitting that make up the home's exquisite maple wood ceiling.
Rose was tasked with creating a modern home of unbridled quality which is equally functional and comfortable, regardless of the season.
"In Whistler, summer and winter are very distinct, while spring and fall have their own subtleties," he said.
"We wanted to reflect these in the design and construction but also to create a home that is practical, low maintenance and liveable year-round, catering to the nuances of each season."
The luxurious in-home spa and steam room is just one such example. Conveniently located on the lower level which opens up to the lake frontage, it is the perfect venue for cooling off after some summer sailing, warming up following a fall hike, thawing out from a mid-winter's day on the ski hill or simply indulging in a session of springtime pampering.
Features ordinarily regarded as functional are, in Les Saisons, centrepieces of architectural ingenuity. The main staircase is a suspended construction of American Maple, stainless steel and glass with each element hand crafted to sheer perfection, while the walkway joining the east and west wings is a similarly themed bridge with distinctive stainless steel mesh railings and a full length vaulted skylight overhead, allowing natural light to flood the entrance below.
The emphasis on symmetry, simplicity and superb craftsmanship is evident in every element of this remarkable home. Most importantly however, Les Saisons is a home to be lived in, appreciated and enjoyed - a true home for all seasons.
Specifications
Style: Modern Contemporary Whistler Home
Address: 3082 St Anton Drive, Whistler, BC, Canada
Property: 5,004 sq ft
Year Built: 2005
Lot size: 22,447 sq ft
Bedrooms: 4
Bathrooms: 6
Asking price: $11,900,000 (CDN)
For more information on Les Saisons and to select photos for publication, please visit http://www.saisonswhistler.com or contact Bob Cameron on 1-604-905-6336.
###