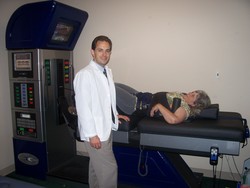 For me, the DRX 9000™, I can't put a value on it. All the things that I thought I've forgotten, I can do most of them again now…
Santa Cruz, CA (PRWEB) August 4, 2009
A high-tech treatment for back pain, sciatica, herniated discs, bulging discs, and spinal stenosis called the DRX 9000™ is now available in Santa Cruz County thanks to Dr. John Falkenroth, D.C. According to Dr. Falkenroth, "This treatment has allowed many of my patients to not only avoid back surgery but to also go back to their normal active lifestyle. Some patients have been able to go back to their physically demanding jobs such as construction or nursing within 2 weeks after being off work due to debilitating back pain." This high-tech treatment has been featured in top two medical journals Pain Medicine News and Anesthesiology News can be seen in action at the website http://www.repairmyback.com .
The DRX 9000™ is quickly becoming very popular - both among patients and doctors. And for good reasons. The treatment is very easy on the patient…and the results are impressing doctors and researchers. DRX 9000™ patient and professional golfer and golf analyst Frank Nobilo says, "I've seen players getting ready for the Champions Tour and nearing 50 years of age trying to get back in shape for example using the DRX 9000™. And I've seen players in their thirties who are perfectly healthy using the DRX 9000™ to stay perfectly healthy."
As to his life changing success story using the DRX 9000™ Nobilo says, "For me, the DRX 9000™, I can't put a value on it. All the things that I thought I've forgotten, I can do most of them again now…"
Even some back surgeons now recommend that their patients first try the DRX 9000™ before they undergo invasive back surgery. According to neurosurgeon Dr. Robert Hudgins, M.D., "A lot of patients that I see are actually sent for surgery and I give them this alternative and in a great majority of patients this lets them get rid of their pain without having to have surgery."
Orthopedic surgeon, Dr. Jeffery Shall, M.D., says "I have patients who I would bet would go into surgery after looking at their MRI and after examining them. And they'd come back telling me that after 2 sessions they were better and after the completion of treatments are completely pain free. You can't argue with that kind of success."
When two top medical journals Anesthesiology News and Pain Medicine News published the positive results from a research study done on the DRX 9000™, this new treatment got the attention of top medical doctors in the country. Dr. John Leslie, M.D. of Mayo Clinic said, "…It was impressive…"
Treatments with the DRX 9000™ are very comfortable. In fact, the treatments are so relaxing that most patients take a short nap during their treatment. Unfortunately, a small percentage of patients do not respond or only get mild improvement with the DRX 9000™. Patients who are not responding will feel no difference in their back pain level and stiffness or their sciatica. For those who are helped, the results are close to miraculous.
Another high-tech treatment Dr. Falkenroth uses is the Pro-Adjuster™. This computerized way to treat the back and the neck has gotten very popular with back pain and neck pain sufferers. So popular that the manufacturer of the Pro-Adjuster™ had to hire a full-time employee just to handle the phone calls from patients across the United States looking for a doctor in their area who uses the Pro-Adjuster™.
With this computer-guided treatment, the patient sits comfortably on a specially-designed treatment chair. The Pro-Adjuster™ is great for patients with back pain and neck pain who are looking for a gentler yet effective way to treat their spine.
Dr. Falkenroth's patients also enjoy the Aqua PT™ Heated Dry Hydromassage. This therapy is so RELAXING and so popular that patients refer their friends and family just to experience this therapy. During this therapy, 30 warm water jets massage the patients back and legs while the patient remains fully clothed and dry. This therapy decreases back pain and neck pain, relaxes muscle spasms and decreases stress.
As if his patients are not pampered enough, Dr. Falkenroth also spoils his patients with electronic massage chairs and tasty treats. Dr. Falkenroth's patients are also big fans of the liquid glucosamine joint supplement that his office carries.
Dr. Falkenroth's commitment to deliver outstanding service to his patients has earned him the loyalty of his patients. In fact, some patients drive 6-8 hours one way to Santa Cruz County to get treated by Dr. Falkenroth. Dr. Falkenroth says, "My patients regard me as their trusted back pain expert. I see myself as their advocate in bringing them the latest treatments that might benefit them."
Dr. John Falkenroth, D.C. has been in practice locally for over 10 years. He has treated over 2,000 patients with back pain, neck pain, herniated disc, bulging disc, sciatica and spinal stenosis. More information about these advanced non-surgical treatments can be found at Dr. Falkenroth's clinic website http://www.repairmyback.com. His office can be reached directly at (831) 475-8600.
For a FREE DVD on the DRX 9000™, call 1-800-445-0989. After a brief recorded message, simply leave your name and mailing address. Shipping is free. Offer good while supplies last.
To schedule a FREE Consultation with Dr. Falkenroth, simply call (831) 475-8600.
Contact:
Claire Barton, Director of Public Relations
Dr. John Falkenroth, D.C.
(831) 475-8600
http://www.repairmyback.com
###