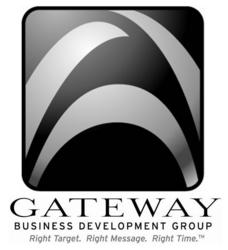 St. Louis, MO (PRWEB) August 4, 2009
Gateway Business Development announces the launch of its new Integrated Customer Development Process. It combines the newest internet marketing techniques with traditional lead generation to deliver the most comprehensive business development program available today. Now all leads, including those generated online, are carefully developed and converted into new business with a single, comprehensive process.
How? Gateway uses contemporary Web Marketing tools like search engine optimization, blogs, high definition video, and social media websites to drive awareness of their client's business. They then channel the subsequent leads directly into their proprietary Pipeline Management process. From this point, leads gathered from a variety of sources (the internet, trade shows, purchased lists, etc.) are captured in a custom database, then verified and qualified.
Gateway makes direct contact with the key decision makers at all prospective businesses, further building awareness of their client's products or services over time. Resulting appointments are then scheduled and turned over to the appropriate sales resources.
Separately, both Web Marketing and Pipeline Management fill gaps in any organization's business development process. When combined, they provide a powerful, structured system to generate and cultivate hundreds or thousands of leads. The result? A steady stream of new customers over time.
Today, prospects gather information in a variety of ways, from a variety of sources. The internet has become the primary tool for gathering data worldwide. Additionally, more and more people rely on the opinions and recommendations of their business peers when deciding on new products and services. Gateway provides the processes to build awareness of our Clients on these Social Media networks, like blogs and forums, in order to remain "top-of-mind" and to scale search engine rankings.
For additional information about Gateway Business Development visit http://www.gatewaybizdev.com.
About Gateway Business Development:
Gateway Business Development is a St. Louis based team of seasoned customer development specialists who design, develop and implement growth programs for B2B organizations. They use their 60+ years combined experience in sales, marketing, technology and business development to help their clients generate more sales opportunities.
Gateway specializes in the creation and implementation of a documented, structured process to manage and communicate to hundreds of prospective customers, measurably increasing the number of new customer targets their clients can pursue.
# # #