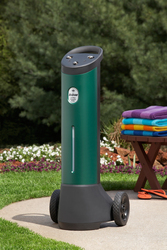 The backyard studies conclude that the ALLCLEAR Mister is very effective at controlling mosquitoes in a designated area for long periods of time
Dallas, TX (PRWEB) August 3, 2009
This year's unusually heavy rains combined with recent high heat and humidity is creating the perfect storm for masses of blood-thirsty mosquitoes. These insects are not only an annoyance but can also transmit diseases such as West Nile Virus, Eastern Equine Encephalitis, and heartworm to humans and pets. Often times the only solution is to retreat indoors. Now when the bugs start biting, homeowners can take back their yards with the new ALLCLEAR® Cordless Mosquito Mister (allclearmister.com).
The patented ALLCLEAR Mister is based on proven, professional mosquito control technology. It offers on-demand, anytime mosquito protection in any backyard. Users simply wheel the battery-powered Mosquito Mister into the area they want to protect and activate. The Mister dispenses a 3-minute atomized mist solution of water and botanical ALLCLEAR Mosquito Mister Concentrate into the desired area of protection. The mist solution kills mosquitoes and other biting insects on contact and then creates an invisible barrier of protection from mosquitoes, including the Culex species that may carry and transmit West Nile Virus. Each three minute mist application protects an area of up to 2,000 square feet for as long as six hours. The Mister is cordless and can be easily repositioned or moved to another area of the yard for additional insect coverage.
"Our ALLCLEAR Mosquito Mister is perfect for anyone who wants immediate mosquito control, maximum protection, and ease of use," says Jim Mills, president, Universal Pest Solutions, LP. "ALLCLEAR allows people to enjoy their yard when they want, for as long as they want, without the bother of mosquitoes."
In tests conducted by independent entomologists for Universal Pest Solutions in backyards throughout Dallas and Houston, Texas, the patented ALLCLEAR Mosquito Mister and ALLCLEAR Concentrates reduced biting mosquitoes by more than 90% in an area of up to 2,000 square feet for as long as six hours.
"The backyard studies conclude that the ALLCLEAR Mister is very effective at controlling mosquitoes in a designated area for long periods of time," comments Bill Donahue, Ph.D., CEO/Laboratory Director, Sierra Research Laboratories. "Unlike backyard mosquito control products that can take weeks to see results or other options that may operate when not really needed, the ALLCEAR Cordless Mosquito Mister technology affords users immediate insect relief where and when they need it most."
ALLCLEAR Mosquito Mister Concentrates:
The ALLCLEAR Cordless Mosquito Mister operates exclusively with ALLCLEAR Mosquito Mister Concentrates. Consumers can choose the botanical Pyrethrum concentrate which is derived from dried chrysanthemum flowers or its synthetic equivalent which contains Permethrin. Each bottle of concentrate provides up to 25 three-minute mist applications, lasting most users a month or more of protection per bottle. Pyrethrum has been used for centuries and is one of the most widely used all-around insecticides. Botanical and synthetic Pyrethrins are used in nearly every category of insect control and are frequently used in a variety of household products such as human head-lice shampoo, indoor foggers, and pet flea sprays.
The ALLCLEAR Cordless Mosquito Mister and ALLCLEAR Mosquito Mister Concentrates are sold separately. They are available nationwide at select Ace, True Value, and independent hardware stores and online at Frontgate. For store locations and more information visit our store locator.
About Universal Pest Solutions, LP
Universal Pest Solutions, LP is headquartered in Dallas, Texas with field offices in Boston, Mass. Founded in 2007, the company is dedicated to ridding outdoor residential areas of mosquitoes and other nuisance insects.
###