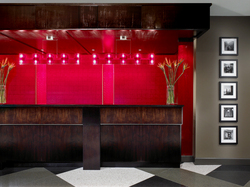 The Music City Suites exemplify Nashville and will create the ultimate Music City experience for our guests.
Nashville, TN (PRWEB) August 4, 2009
Hotel Preston, a Nashville boutique hotel known for its quirky amenities and unique packages, has selected its next unique amenity--placing guitars in guest rooms--through an online contest. Hotel Preston partnered with top travel blog Conde Nast's Hotel Chatter to select the next big amenity at the Music City Hotel. Hotel Chatter writers along with the Hotel Preston declared placing guitars in the rooms of the hotel the most unique amenity and a great compliment to Music City's brand.
"Hotel Chatter members gave several great suggestions for unique amenities at Hotel Preston," said Howard Jacobs, Chief Operating Officer for Provenance Hotels. "We decided that putting guitars in some of the rooms at Hotel Preston was the most unique and appealing amenity."
Hotel Preston plans to implement the amenity in the coming months and create several Music City Suites that include an acoustic guitar. The Music City Suites add to the list of the Hotel Preston's distinctive amenities and packages including: the Spiritual Menu, an in-room menu of religious books available via room service; the Divorce Package, an overnight package that aids couples in their divorce; and the Culture Shock Package, a package that allows guests to experience Italian, German or French culture in Nashville, Tenn.
"We're excited about this great new amenity at Hotel Preston," Jacobs said. "The Music City Suites exemplify Nashville and will create the ultimate Music City experience for our guests."
About Hotel Preston
Situated in the heart of Nashville, Tenn., the Hotel Preston offers a luxurious experience for all travelers. It operates on a "you want it, you got it" philosophy offering a pet-friendly atmosphere, a pillow menu, down comforters, wireless Internet access, and even a lava lamp and pet goldfish if one desires. The Nashville boutique hotel is only minutes away from Opryland, downtown and the airport; shopping; sports; restaurants; art galleries and theatres, providing hotel guests easy access to all Nashville has to offer. More information can be found at http://www.hotelpreston.com. You can also check us out on Facebook or Twitter.
###