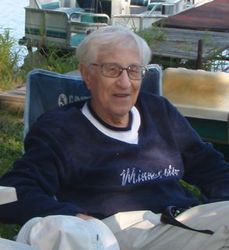 Six Million for Six Million.
Phoenix, Arizona (PRWEB) August 14, 2009 -
Launch flix, a production company, today unveiled a new "micro fundraising" campaign called "Six Million for Six Million." The group is making a feature film with a $6 million total budget based on the life story of 88-year-old Holocaust survivor and author Dr. Henry A. Oertelt. Dr. Oertelt's award-winning book is called An Unbroken Chain, My Journey through the Nazi Holocaust. Born in Berlin Germany, of Jewish faith, Dr. Oertelt was twelve years old when Hitler came to power in 1933.
"When addressing students over the past forty years, I have always said, if you absolutely have to hate, hate HATE," stated Oertelt. "I am very pleased to reach even more people with this message."
Launch flix is partnering with Congregation Eitz Chaim of Phoenix, Arizona. Congregation Eitz Chaim has started a 501(c)(3) education fund for the film project that will provide tax deductions to donors.
"No-one is born hating others, it has to be taught. We realized that if you can teach hatred, then you can also teach understanding. With this campaign, we want to demonstrate the enormity of the number of Jewish victims in the Holocaust," said Rabbi Victor Beck, of Congregation Eitz Chaim, "and ultimately use this film to educate the next generation about what hate can lead to."
"We mapped out the budget for the project and when it all added up to $6 million, it seemed like an astronomical amount of money - an impossible number. We were struck when we realized it was the same as the number of Jews that perished in the Nazi Holocaust," Stephanie Houser, CEO of launch flix, explained.
This project is about educating future generations about these historical events. Like the popular documentary Paper Clips, the group hopes to make people think about the total number of victims - six million fathers, mothers, sisters, brothers, grandparents. The campaign Web site, http://www.6mfor6m.org will ideally list each donor.
"Even if we get a dollar a person, we will have been successful in raising awareness of the issue," said Houser. "With the support of our donors the film will bring Henry's story to a wider audience than ever before. She added, "The fundraising effort is already being met with great enthusiasm. It raises awareness for Holocaust education and we are looking forward to reaching the goal and starting production by this winter."
In An Unbroken Chain: My Journey though the Nazi Holocaust, young Henry examines eighteen separate but equally crucial "links" in the chain of events that kept him alive and ultimately led to his freedom. From the Nazi foreman who helped him escape the Gestapo to the SS General who gave him the medical treatment he needed, Henry faces the encounters and situations that changed his destiny from ages twelve to 24. Although often sad and shocking, the remarkable events of Henry's life, as well as his amazing strength and hope, will touch the lives and hearts of movie goers everywhere.
About Congregation Eitz Chaim
Founded in 2006, Congregation Eitz Chaim is a 501(c )(3) committed to serving the needs of the Jewish community of the Phoenix East Valley and surrounding areas. They embrace traditions while actively participating in a changing Jewish world. Eitz Chaim, which means Tree of Life, offers religious, spiritual, educational and community services and programs to members of all ages and denominations. Visit http://www.eitzchaimphoenix.org.
About launch flix
launch flix is an award-winning production company with offices in Phoenix and Los Angeles. Launch flix creates and produces original content like films, shorts, and Web videos that inform, entertain and educate diverse audiences. They focus on "green" production, Internet marketing, and profitability to give partners the highest return on their investment. For more information on launch flix or the movie, An Unbroken Chain, visit http://www.launchflix.com.
About Dr. Henry Oertelt
Now 88 years old, Henry Oertelt was liberated by General Patton's Third Army during the Flossenburg Death March in April, 1943. He arrived in St. Paul, Minnesota in 1949 and has spent 40 years speaking about his experiences and the importance of tolerance, political involvement, and confronting hatred. Oertelt is past chairman of the Jewish Community Relations Council and Holocaust education committee. He is recipient of the JCRC's "Volunteer of the Year" award, as well as the distinguished "Eleven Who Care" honor from KARE 11 TV in Minnesota in May, 2006. Additionally, the city of St. Paul, Minnesota proclaimed "Henry A. Oertelt Day" on April 23, 2006. Dr. Oertelt participated in Stephen Spielberg's University of Southern California Shoah Foundation Institute for Visual History and Education in Los Angeles, California. In 2005 Stephen Spielberg's Shoah Visual History Foundation made Henry's story one of five selected survivor testimonials featured on their Web exhibit from among over 55,000 collected stories. Read the movie blog at http://www.anunbrokenchainthemovie.blogspot.com.
# # #