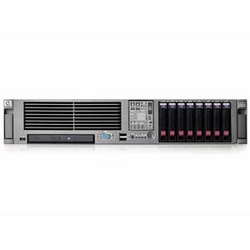 Grand Rapids, MI (PRWEB) August 7, 2009
Great Lakes Computer, a 23 year old global HP reseller with well in excess of $1 billion technology sales, announced today it will begin offering the last remaining inventory of brand new HP ProLiant DL380 G5 servers to the general public.
Hewlett Packard officially discontinued the DL380 G5 in conjunction with the announcement of its next generation of the world's most popular server, the DL380 G6. In anticipation of increased customer demand due to standardization, application issues and budgetary constraints, Great Lakes Computer has been strategically increasing its inventory position on all available new DL380 G5 server models, including HP's very popular Smart Buy configurations and their CTO (Configure To Order) chassis.
Available HP DL380G5 SKUs Include:
397307-001, 417458-001, 433526-001, 458567-001, 470064-381, 417453-001, 418314-001, 433527-001, 458568-001, 470064-511, 417454-001, 418315-001, 458561-001, 459584-005, 470064-552, 417455-001, 430027-005, 458562-001, 459585-005, 470064-873, 417456-001, 433524-001, 458563-001, 461453-001, 492205-001, 417457-001, 433525-001, 458565-001, 465323-001, 391835-B21
For specific pricing and configuration details on the available DL380 G5 server models, contact Great Lakes Computer or refer to the accompanying attachment(s). This special inventory promotion is only available through Great Lakes Computer and is being offered at discount levels usually reserved for only the largest volume HP ProLiant customers.
When asked why Great Lakes Computer was offering such steep discounts on the last remaining stock of new DL380 G5 servers, their HP ProLiant Product Manager was quoted as saying, "Great Lakes Computer has been in the business of supporting our customers through transitions in technology for over 23 years. Manufacturers of IT equipment often discontinue products faster than their useful life expectancy. Businesses find themselves with few alternatives, when their standard models are suddenly no longer available. Part of our multi-million inventory strategy is to help our customers protect their investments. What better way is there to support our customers than by offering new DL380 G5 servers at what we feel are the lowest prices in the market?"
To learn more about the specific promotion details, visit Great Lakes Computer on the web or call 1-800-488-2587.
###